MySuperSnack Review
I am always searching for the healthiest snacks for my three children and love discovering new tasty treasures!
MySuperSnack was created to be a balanced, healthy on-the-go snack food for children ages 2-12 and it is a big hit with my five, six and seven year old kids. All of the delicious flavors we sampled passed their taste test with flying colors and I feel good that they can enjoy a tasty yet healthy snack anywhere. With wholesome, luscious snack food flavors including Apple Raisin (soft) Granola Bites, Blueberry Banana Acai (soft) Granola Bites and Chocolate Chip (soft) Granola Bites there is sure to be a flavor from MySuperSnack to please even the pickiest eater. I appreciate that there is nothing artificial in any of the products and they use non-GMO ingredients.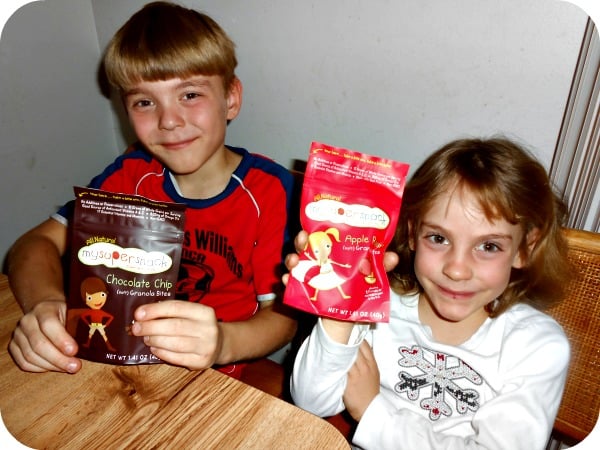 MySuperSnack features soft granola bites that are very tasty (ahem, even for moms who may sneak a few for themselves). I am very pleased that a serving of these all natural snacks are lower in sugar (sweetened with monk fruit), have 3 grams of protein, 3 grams of fiber and is high in antioxidants with 17 vitamins and minerals. Making a commitment to offering the healthiest snacks, MySuperFoods Company even packages their snacks in BPA bags!
My children loved all of the flavors but their favorite is the Apple Raisin. My personal favorite is the moist, pleasantly chewy soft granola bits in the Blueberry Banana Acai. My children report that this snack is very satisfying and keeps them going in the afternoon when they are active before dinner.
I love that MySuperSnack is portable and has a pouch that reseals so that it doesn't have to be consumed in one serving for smaller appetites. I toss a pouch in our backpack for hiking and biking when the kids inevitably complain that they are hungry…..in the woods far away from a food source. It can be eaten with their fingers and isn't messy so it is the perfect travel snack!
You are invited to visit the MySuperFoods website to learn more about these delicious, nutrient packed super snacks for kids. MySuperSnack varieties (SRP $2.99 per pouch) are available for purchase online at retailers such as Amazon.com, AbesMarket.com and others.
Connect with MySuperSnack on Facebook and Twitter too!
Disclosure: I was not financially compensated for this post. I received a sample of the product for review purposes. The opinions are my own, based on my personal experience with the product.