My Little Pony: Friendship is Magic-Pinkie Pie Party DVD Review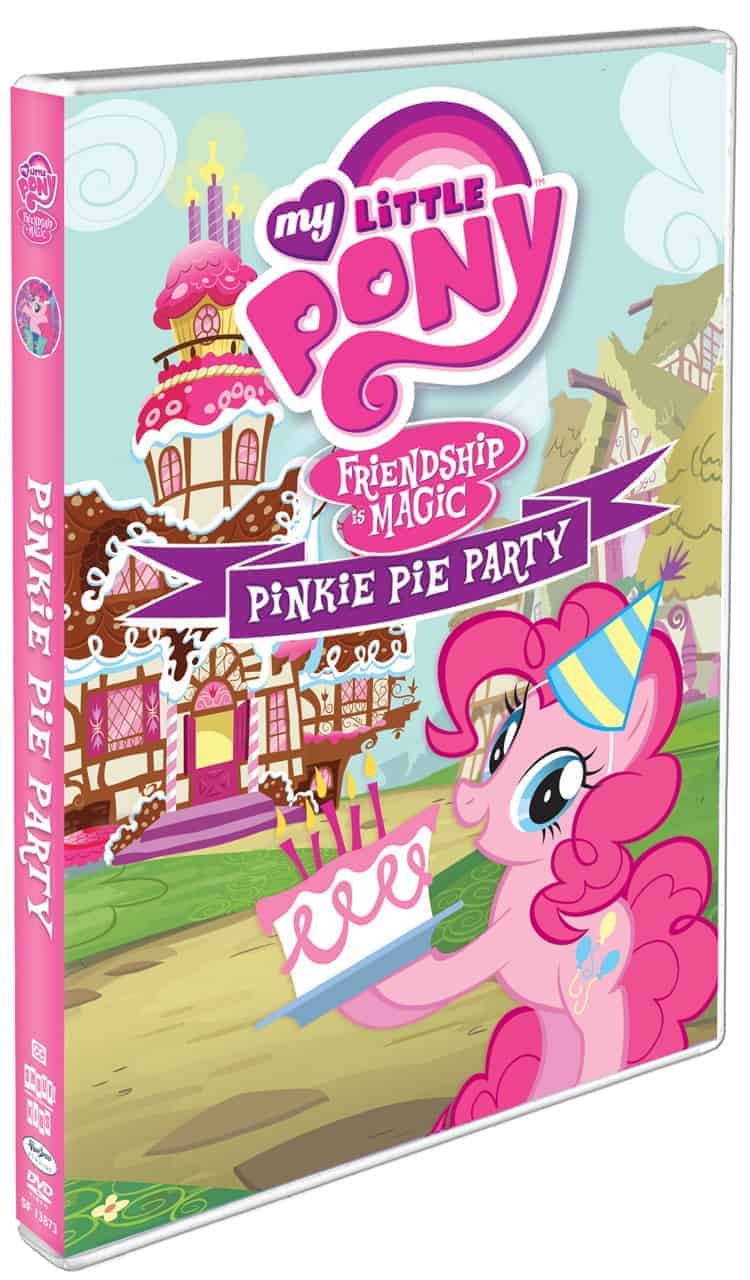 It's all about Pinkie on the newest My Little Pony DVD from Hasbro Studios and Shout! Kids. My Little Pony: Friendship is Magic- Pinkie Pie Party contains 5 episodes from the new series shown on The Hub TV Network. This DVD was released on January 29th, 2013 and is available only at Walmart.
The episodes on Pinkie Pie Party are:
Feeling Pinkie Keen
Party of One
Baby Cakes
A Friend in Deed
Too Many Pinkie Pies
Feeling Pinkie Keen
Practical Twilight Sparkle doesn't believe in things she can't see with her own eyes, but Pinkie Pie convinces her otherwise with her quirky natural instincts. When the ponies get in trouble, Twilight Sparkle must learn to trust in Pinkie Pie's signals to make it through the day.
Party of One
Pinkie Pie gets her feelings hurt when all of her pony friends decline her invitation for a party. Thinking something's up, Pinkie Pie disguises herself and follows them all around to find out why they won't come to her party.
Baby Cakes
Pinkie Pie gets more than she bargains for when she volunteers to babysit for newborns Pound Cake and Pumpkin Cake. Pinkie Pie learns the hard way that caring for small children involves more than being just a playmate.
A Friend in Deed
Pinkie Pie gives it her all in trying to make friends with Cranky, a donkey that comes to Ponyville. Despite his unwillingness to be her friend, Pinkie's relentless pursuit of friendship ends up finally ends up bringing a smile to his face.
Too Many Pinkie Pies
Pinkie Pie can't decide which of her pony friends she should hang out with, so using a magical spell she copies herself so she can have fun all over Ponyville. Pinkie Pie's good intentions cause problems with all the residents of Ponyville. 
My Review:
I didn't play much with My Little Pony toys when I was younger, though I know I owned a few. During the past year or two, my daughter has completely fallen in love with ponies. Our neighbor gave her some of her old pony toys, and for the longest time they were the only toys she would play with.
Once episodes started to come out on DVD, I began sharing them with her and recapturing my own childhood. I really like the new show; not only do I end up laughing a lot at the antics (especially when Pinkie Pie is involved), but they also teach a good moral lesson that's summarized at the end of each show. As a parent, I can usually figure out the message after a minute or two, but I appreciate the writers for taking the time to make it clear to kids who are watching what they want to say.
The new animation in this series is a lot more fun than I had thought at first, too. I actually know more adults than kids that are in love with the show, and even I have started collecting my own My Little Pony merchandise. I'm especially loving the t-shirts!
The My Little Pony show on the Hub is the perfect thing for parents and kids to watch together, and even guys are sure to like it!
Bonus Features
Sing-Along Pinkie Pie's song "Smile Smile Smile" with the words on the screen so you can sing along easily.
Party Activity Kit To gain access to this, put the disc in your DVD-Rom drive and select Party_Kit.
* I was not financially compensated for this post. I received a sample of the product for review purposes. The opinions are my own, based on my personal experience with the product.*