An Interview with Oz the Great and Powerful's Mila Kunis #DisneyOzEvent
WARNING: This interview contains spoilers from the movie Oz the Great and Powerful. If you wish to be completely surprised by the film, I encourage you to bookmark this post and come back to read it after you have seen the movie.
Photo Credit: Jeanne of Inside Out Motherhood
Mila Kunis, who stars as Theodora in Oz the Great and Powerful (out in theaters March 8th, 2013), is most well recognized for her voice work in Family Guy and her role as Jackie on That '70s Show. Oz the Great and Powerful is the first family feature film in which she has starred.
The witch Theodora is a complex character who develops feelings for James Franco's Oscar Diggs. Oscar is attracted to her because of her beauty, but he doesn't see a long term relationship with her. Once Theodora realizes this, her character transforms. In the film, Kunis seemingly gets to play two characters. We asked her which character she had more fun playing, and she responded, "Truth is I…find that it's the same character…I think it's just a woman scorned and it's a character that goes through a transformation, an emotional transformation of a heartache and just so happens to transform in color."
Getting into the makeup of her character took four hours when they first started, and as the makeup artists got used to the process, they were able to apply it in around two hours. "Taking the makeup off, every night it makes your face swell. Like it legitimately puffs it up. If you imagine whipping your skin every day, that's what it does." Mila's makeup also included a full prosthetic piece. Applying it involved a cement-like glue to hold it in place. Of the glue, Mila said, "I think that if I had to smell it today it would probably make me cry. Like that would be my natural reaction. I'd be like oh, God. It's not pleasant."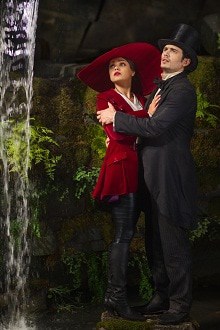 When Kunis first came to America at the age of seven, she did not speak a word of English. At nine years old, she read her very first book in English, and it happened to be one of the Oz books written by L. Frank Baum. She is also a fan of the 1939 film. "I've spoken about this completely independent of this movie prior to ever being attached to this film that as a kid the first movie that I remember seeing that resonated with me was The Wizard of Oz. I think just visually the color, the spectrum of it and how fantastical it was and how much you wanted to live in that world, for a nine year old was so magical and so grand so I have the greatest, fondest memories of it."
This is the eighth project that Kunis has worked on with James Franco. "We're stuck together," she joked. Most of Kunis's scenes were with Rachel Weisz. "Rachel and I had a fantastic time. We had so much fun." Mila only appeared in one scene opposite Michelle Williams. "Michelle and I literally get to do one thing together and are dying to work more.
Although Mila herself is not a parent, she did have some thoughts on the age appropriateness of the film. "I think that what kids now watch nowadays is different than what kids watch when I was young so I don't know. I think that it's up to the parents to decide…I think some parents would let a ten year old watch it and some parents wouldn't."
Mila has a fun and playful personality, so we especially wanted to know what she thought about becoming a Disney doll. (The Theodora doll is sold at Target and also the Disney Store for around $20.) "I just got it two days ago. It's still in the box. I won't lie. I've shown it to everybody that walks into the house because let me be clear. It's not just a doll, it's a Disney doll…I'm like hey you guys, have you seen this? Check this out!"
"Like" OZ THE GREAT & POWERFUL on Facebook
"Follow" OZ THE GREAT & POWERFUL on Twitter
Visit the website
OZ THE GREAT AND POWERFUL lands in theaters on March 8th!
*Disney provided me with an all expenses paid trip to Los Angeles to attend the red carpet premiere and participate in cast and crew interviews. The image used in this post is used with Disney's permission. No financial compensation was received in exchange for this post.*