Michael Angelo's "Naturally Italian" Gourmet Frozen Meals Review
I take great pride in serving my family nutritious, home cooked meals however there are some days that just isn't possible with our busy schedules. Since I am not willing to sacrifice on taste and quality the Michael Angelo's product line is one of our favorite go-to brands for delicious, satisfying prepared frozen prepared meals!
What makes Michael Angelo's so exceptional in my opinion is that it is a family owned and operated company that is cooked using their authentic Italian recipes that have been enjoyed and stood the test of time throughout the generations. Using the highest quality ingredients and cooking in small batches is something that Michael Angelo's proudly boasts for each of their tasty freezer meals. I appreciate that the cheeses are imported from Italy and they even use one special type of vine-ripe tomato and heirloom garlic in their recipes!
There are many different types of Italian meals to choose from by Michael Angelo's and there is sure to be something perfect for your dinner table too. Michael Angelo's "Signature" family style meals are always a big hit with my husband and children. My husband often requests the single serve meals in his lunchbox for work and I absolutely love the "Natural" product line. I love that it is very easy to take a nutritious and delicious meal from freezer to table easily on those busy nights and the dinners are very satisfying so everyone leaves the table content.
The Michael Angelo's Signature style family meals feature such delicious freezer meals such as Meat Lasagna, Shrimp Scampi, Chicken Piccato, Baked Ziti and my personal favorite the Eggplant Parmesan. I feel good about serving all of the meals to my family because it does not contain fillers, dyes or preservatives. In fact, all of the meals that I have enjoyed with my family from Michael Angelo's have actually rivaled one of our favorite local Italian restaurants in terms of taste and they win it hands down for value and convenience.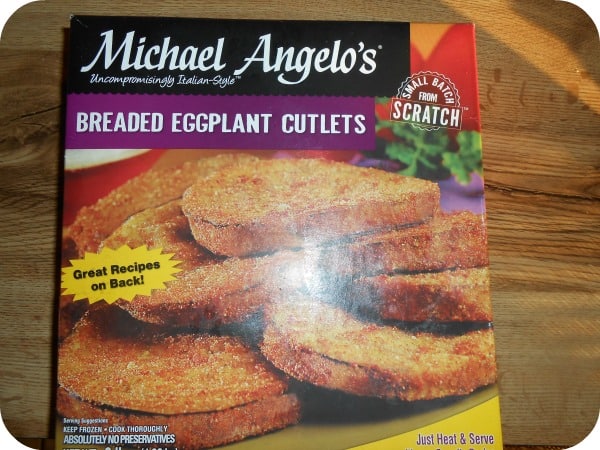 When you are looking for a quick single serve meal for home or on the go then I highly recommend Michael Angelo's Chicken Alfredo (my husband's favorite), Manicotti with Sauce, Pasta Primavera or any of the other authentic style Italian dinners……absolutely delicious and so easy to prepare!
Finally, I was very excited to try the Natural line from Michael Angelo's kitchen! With "antibiotic-free chicken, wheat free meals, non-GMO organic Kamut khorasan wheat pasta and organically grown tomatoes" this is one healthy, delicious collection of single-serve freezer meals. The Baked Eggplant Parmesan, Meat Lasagna and Chicken Parmesan taste so fresh and could actually pass as home cooked in my opinion.
Are you ready to stock your freezer? You are invited to visit the Michael Angelo's website to find a store location near you that carries this product line.
Disclosure: I was not financially compensated for this post. I received a sample of the product for review purposes. The opinions are my own, based on my personal experience with the product.