Lookio Books Review
"Mommy, can I be anything I want when I grow up?" My son, Adam has expressed desire to be a paleontologist, artist, musician, architect and Monster Truck driver when he grows up and I love to encourage him to reach for his dreams.
Lookio Books has personalized children's books including one title, "When (Name) Grows Up" which I knew would be the perfect birthday gift for my son. Lookio has high quality, unique personalized books which will star your favorite child in their own adventure including (Name) and the Little Cloud and (Name) and the Rickety Robot.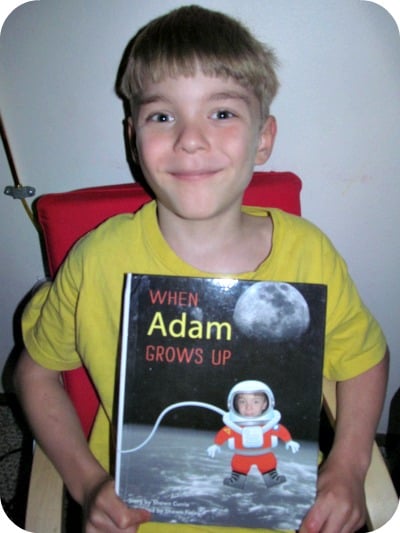 My son was so excited to receive, "When Adam Grows Up" which features a hardcover of Adam's face in an astronaut suit. I was able to personalize a message just for Adam on the inside cover which made him feel very special and he was very excited to read about all of the occupations he could choose when he grows up. For example, Adam the Firefighter, Adam the Pilot and his personal favorite idea, Adam the Meteorologist open up a fun discussion with Adam and his siblings about working hard to be anything they want to be when they grow up.
I appreciate that Lookio uses quality glossy paper to showcase the unique full-color illustrations and it is such a treat to watch my child beaming when he sees his face as the "star" of the book. Creating a personalized children's book at Lookio was easy and the website is very user friendly.
You are invited to visit Lookio to browse the three fun personalized stories available and customize it with your child's name, gender, skin tone and more. Each 8"by 10" hardcover book has 26 pages in each adventure and the glossy laminated cover is smartly designed for durable wear especially since it is sure to be read over and over again by the lucky recipient.
Lookio Books are available for purchase for $33 and can be customized online today so head over and take a peek inside the books.
Disclosure: I was not financially compensated for this post. I received a sample of the product for review purposes. The opinions are my own, based on my personal experience with the product.