Hitchcock's Mystery Blondes
Hitchcock is available on Blu-ray and DVD on March 12th!
Oscar® winners Anthony Hopkins and Helen Mirren* are spellbinding in this provocative story about the making of one of cinema's most iconic films. Plagued by both a reckless ego and nagging self-doubt, Hollywood legend Alfred Hitchcock (Hopkins) becomes obsessed with a grisly murder story that the studios won't back. Determined, he risks his reputation, his home and even the love of his wife Alma (Mirren), as he sets out to make the film. Ultimately, Hitch wins Alma over, and the two collaborate to create an enduring masterpiece – Psycho. Also starring Scarlett Johansson, Toni Collette and Jessica Biel, Hitchcock is "a knockout from start to finish" (Rex Reed, New York Observer).
Hitchcock's Mystery Blondes
As we learn in the film, Hitchcock's obsession with a specific look – the "Hitchcock Blonde" – created some of the most iconic female roles in film history. We will count off some of the most famous blondes such as Kim Novak, Janet Leigh and Tippi Hedren to come from Hitch's repertoire.
Kim Novak – Vertigo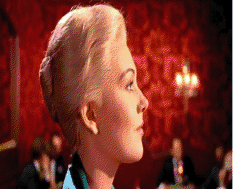 Born as Marilyn Pauline Novak, Novak is best known for her dual role in Alfred Hitchcock's 1958 film Vertigo in which she played the roles of brunette shop girl named Judy Barton and a blonde woman called Madeleine Elster. Veritgo tells the story of a former detective John "Scottie" Ferguson who has been forced into early retirement due to vertigo and depression. Scottie is hired as a private investigator to follow Madeleine Elster, who is behaving peculiarly.
Janet Leigh – Psycho
Born as Jeanette Helen Morrison, Janet Leigh was discovered by actress Norma Shearer who was then married to a senior executive at MGM. Though Leigh starred in a handful of films, she was best known for her role as Marion Crane in Alfred Hitchcock's Psycho. Her performance garnered her a Golden Globe Award for Best Supporting Actress and was nominated for an Academy Award for Best Supporting Actress.
Tippi Hedren – The Birds, Marnie
Nathalie Kay "Tippi" Hedren had a successful modeling career, appearing on the covers of national magazines, prior to being discovered by Alfred Hitchcock on The Today Show during a commercial break in which Hedren was featured. Hedren made her big screen debut in 1963 in the role of Melanie Daniels in Hitchcock's The Birds. The following year, she starred opposite of Sean Connery in the romantic drama and psychological thriller Marnie, which was also directed by Hitchcock.
Grace Kelly – Dial M for Murder, Rear Window, To Catch a Thief
Grace Patricia Kelly was an American Actress who would someday marry Rainier II, Prince of Monaco to become Princess consort of Monaco. During her career, she appeared in three Hitchcock-directed films, the first of which was Dial M for Murder in 1954, where she played the wife of a pro tennis player who's set out to murder her so that he can inherit her fortune. Kelly would continue on to make two other films with Hitchcock – Rear Window and To Catch a Thief.