Guidecraft® Community Buildings Wooden Toy Set Review
Each month the Guidecraft® Educators blog team is delighted to have the opportunity to introduce you to a wonderful company that creates the highest quality toys and furniture designed specifically for children. This month, we have added the Guidecraft® Community Buildings to the 42 piece Roadway System toy set that has provided hours of building and role playing fun for children ages 5, 6 and 7.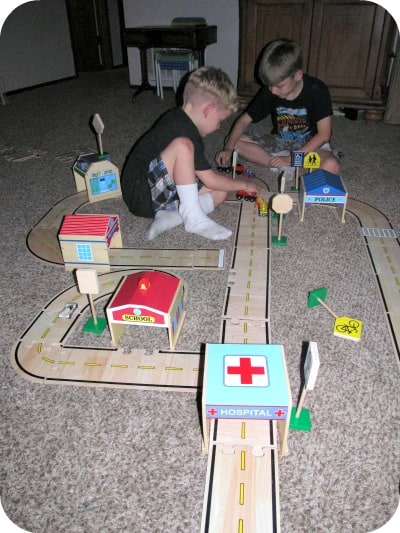 The Guidecraft® Community Buildings set includes six buildings bringing the Roadway System "to life" for even more excitement and creative play. There is a Fire Station, Police Department, Hospital, School, Grocery Store and Service Station. At 6.5" wide and 5.75" deep each building is generously sized and has a 3.5" high entrance for play cars and trucks to enter and exit through it. As is the standard for all Guidecraft® products, each building is durably constructed from plywood to withstand lots of eager play. The community buildings are attractively painting with vibrant colors and designs to engage the children and my group loved setting up their own cities where they would play for hours, rearrange as needed and then continue playing.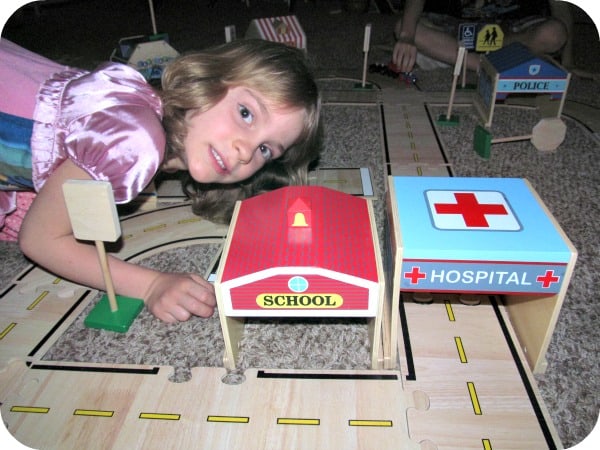 When this set was added to the Roadway System, it was more appealing to both boys and girls who had a great time building and designing. The larger sized wood pieces make this a great building toy for even the youngest children (it is recommended by Guidecraft® for ages two and up).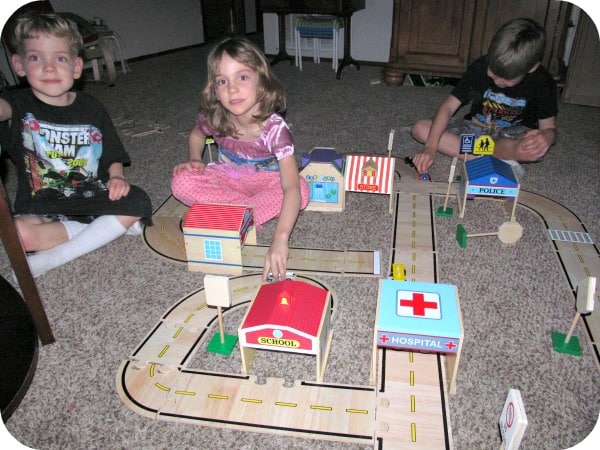 If you are looking for an excellent addition for your classroom, playroom or searching for the perfect gift idea then I highly recommend checking out this toy collection from Guidecraft®. You can mix and match your favorites to go along with the Roadway System ($80) including this fabulous Community Buildings set (SRP $80) and Block Play Traffic Signs ($22) and more. This is the type of toy that is going to withstand the test of time and it is of heirloom quality which can be passed down from one generation of children to the next.
You are invited to visit Guidecraft® to browse the entire collection of children's toys and furniture and get purchasing information for the Community Buildings set.
Connect with Guidecraft® on Facebook and Twitter.
You can also head over to our fellow Guidecraft Educator's blog, Huppie Mama to enter to win a set of Community Buildings from Guidecraft®!
Disclosure: I was not financially compensated for this post. I received a sample of the product for review purposes. The opinions are my own, based on my personal experience with the product.