Fiber One Protein Chewy Bars Review
A part of my healthy eating is to include adequate amounts of protein in my diet and limiting excess sugar. Fiber One® Protein Chewy Bars is a delicious way to enjoy a snack that has at least 6 grams of protein, 7 grams of sugar and 20% of my daily fiber values.
My family and I enjoyed sampling two delicious Fiber One® Protein Chewy Bars including my personal favorite, Coconut Almond and Caramel Nut. The Fiber One® Protein Chewy Bars in Coconut Almond reminds me of one of my favorite decadent candy bars that I no longer eat yet it is very satisfying and has only 140 calories! I enjoy eating a half of a bar as a dessert when craving a sweet treat or an entire bar if I need a snack when on the go since it is so easy to take one along in my bag when the cravings hit.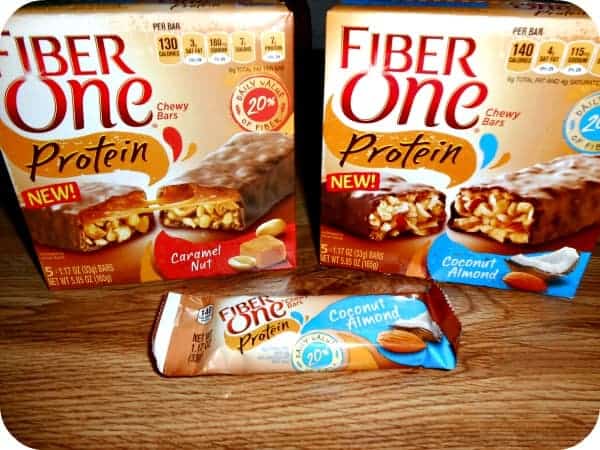 Each bar has a tasty chocolate flavored coating, whey protein concentrate, whole grains and rice flour. My husband requests the Caramel Nut Chewy Bars to be packed in his lunch box and reports that it helps keep him going on those long hours working the night shift. I love that it keeps him away from the junk food and candy bars frequently luring him in to the vending machines!
Fiber One® Protein Chewy Bars are a tasty alternative to sugar laden candy bars and it has been a big hit with my family. There are five bars per pack and Fiber One® Protein Chewy Bars are available for purchase at major grocery retailers for the suggested retail price of $4.19. This is a satisfying, healthier and economical way to enjoy a yummy snack food. ….it definitely satisfies my sweet tooth cravings without all the guilt!
You are invited to visit the Fiber One® website to learn more about Fiber One® Protein Chewy Bars and all of the other delicious products available. Which new flavor are you the most excited to try?
Disclosure: I was not financially compensated for this post. I received a sample of the product for review purposes. The opinions are my own, based on my personal experience with the product.