Tips for Cold & Flu Season #PGMom
The flu was rampant in our household a few weeks ago. First, Bridget was sick. Then a couple days later I started feeling rundown. I woke up the next day with a headache and fever. John then got sick. It was awful. The flu was really bad this year. I haven't had it like that for as long as I can remember. I had a fever for four days straight. It would go down with medication and rest, but then would come back up again. I thought it was never going to break! Finally it did though and I began to feel more like myself.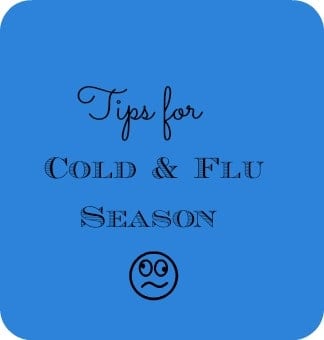 Here's a few tips that helped us recover and made us more comfortable when we were battling the cold & flu. 
1. Drink lots of fluids. It's important to stay hydrated especially if you have a fever. I usually just drink water, but hot beverages can also help soothe sore throats and clear your nasal passages.
2. Get plenty of rest. When you have the flu, your whole body hurts. Try and take it easy as much as you can. I normally don't take naps, but when I'm sick, I nap to let my body heal.
3. Dress in layers. With the flu, comes the chills and hot flashes. They seem to alternate too so one minute you are freezing and the next sweating like crazy. Dressing in layers helps so you can remove or add clothing depending on your symptoms.
4. Frequent handwashing. It's important to stop the spread of germs so washing your hands frequently is a must. It also helps to prevent other people in your home from getting sick.
5. Stay home. Don't go out unless you absolutely need to so you don't spread the germs to other people.
6. Combat the flu symptoms with Vick's DayQuil & NyQuil Cold & Flu Multi Symptom Liquicaps. We are completely out of DayQuil and have only a few NyQuil left in the package. Both John and I took them during the worst of our flu symptoms. I found they helped me to be able to rest comfortably and bring down my fever. I took them until my fever broke and I started feeling better. They also helped with the body aches and pains. 
7. Treat coughs and congestion with Vick's VapoRub Topical Ointment. I was coughing so much that it physically hurt. It was terrible because it was preventing me from sleeping. I use Vick's VapoRub mainly at night to help me sleep and stop the incessant coughing. I think that's one of the most annoying symptoms of having the flu! You can also use it on your muscles and joints to help with any aches and pains.
What helps you when you are sick with a cold and/or flu?
Disclosure: I am a P&Gmom. As part of my affiliation with this group I receive products and special access to P&G events and opportunities. The opinions on this blog are my own.