Book Review | Where The Light Falls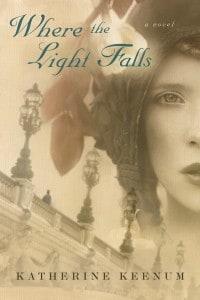 Title: Where the Light Falls
Author: Katherine Keenum
My Review
I remember walking the streets of Paris totally absorbed in the beauty and the wonder of the city. The lights, the people, the smells, the art. I was enthralled. I was in love with Paris. As I strolled along the streets, arm in arm with my husband, I wondered what Paris would have been like in it's prime. When it felt most alive. When there was passion and excitement, that you could almost touch in the air. After reading Where the Light Falls by Katherine Keenum, I got a very good idea what the city of lights would have been like, back when so many things were new and fresh and real.
Set in the late 1800's, this book is full of beauty and quiet reflection. Jeanette Palmer, american and student at Vassar College, is expelled after being involved in a terrible scandal at the school. She is convinced that she must travel abroad, and continue her studies as an artist in Paris. Accompanied by her older cousin, Eiffie Pendergrast, they set off on their journey to France. There they meet the unforgettable and tortured Dr. Edward Murer. The story unfolds in a beautiful and artistic tale of art and love. This is not a fast paced book, full of nail biting suspense; but rather a story that you can take your time in reading. To sit back and enjoy the everyday pace and small pleasures that Jeanette and Eiffie get out of being in a new city, full of so many dreams and so much possibility.
Where The Light Falls is an epic love story found in the subtle colours of an artist's pallette. It is a story of romance, and the suffering of the human soul. It will move you to know the feelings of true joy and despair, that are both a part of Jeanette and Edward's story. The knowledge that art is found in love, and love is found in art, is the epitome of this story. The soul that brings it to life.
*I received a copy of this book for review, but was not compensated financially in any way. The opinions expressed are my own and are based solely on my experiences while reading this novel.*