Aluminyze Review
The walls in my home are really filling up with all the photos I've taken over the years. I love creating different picture layouts on my walls with different frames and themes. I like to keep my eyes open for new frames and picture treatments that hit the market in order to keep things fresh and interesting in my home. Now that I've discovered Aluminyze, I have quite an outlet for new and interesting when it comes to my pictures!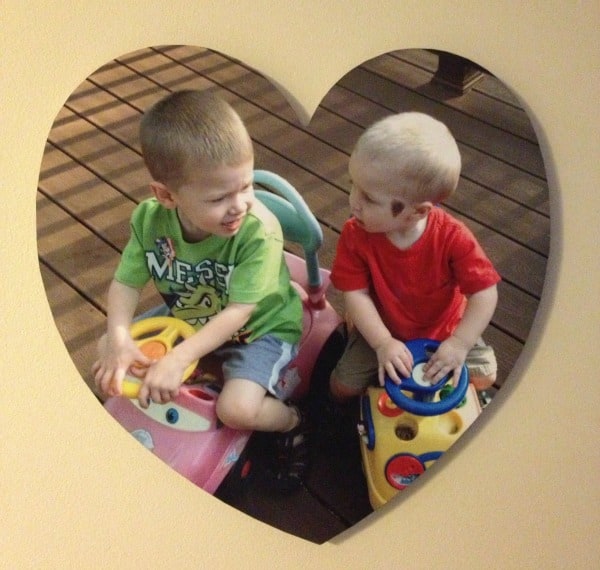 Before I logged on to the Aluminyze site I have to admit I had no idea what it meant to "aluminyze" a photo. I checked out their FAQ section for a quick rundown of what they did with photos. As they define it, an aluminyzed photo is a hard sheet of aluminum with a photograph embedded in it. They use a special technology that infuses your image into aluminum, for exceptional image vibrancy, incomparable durability and maximum versatility. I was fascinated by the fact that you could literally put an aluminized print through the dishwasher without affecting the quality of the piece at all! With the different sizes, shapes and finishes to choose from, I was excited to get started with this review.
With Valentine's Day on the horizon, I was given the opportunity to "aluminyze" one of my photos in a 16" heart shape. The process was easy to start – I simply clicked on "Start Aluminyzing" and was taken to the app wizard where I was able to upload photos, edit them and then select the finish I wanted as well as the mounting option I preferred. What I really liked about the app wizard was that I was able to upload different photos for this piece without having to save and leave the project – so I could change my mind a million times without worrying about having to start over. I finally decided on the perfect fit of a picture – a shot I took of them last summer that I really thing embodies their brotherly relationship. The image fit perfectly in the heart shape. I chose a glossy finish and a wall mount and checked out. It was that simple! When the piece arrived I couldn't believe how unbelievable shiny and bright the image was. It really took my breath away. I couldn't wait to get it on the wall. It looks fabulous and is the perfect starter piece for my next photo wall – it is the piece that I will design my layout around.
The 16" heart shaped piece sells for $99. You can check out the different aluminyzing options on their website. While you're there, be sure to sign up for their newsletter so you can be in the know about new products and promotions. You can also find Aluminyze on Facebook, Tumblr, and their blog.
Disclosure: I was not financially compensated for this post. I received a sample of the product for review purposes. The opinions are my own, based on my personal experience with the product.