Alex & the Kaleidoscope Band Review
All of my children, my five year old son in particular enjoy singing and dancing to a variety of children's music. They recently had the opportunity to move and groove to the fun music release by Alex & the Kaleidoscope Band. The cd titled, "I'm So Glad" is sure to get kids of all ages dancing and singing just like my own children.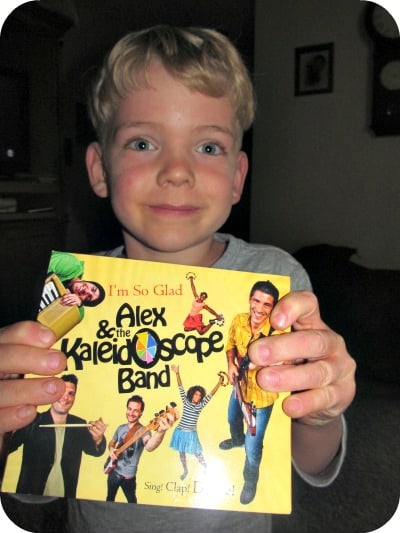 This self-titled, "Paul Simon meets the Beatles on the playground" group is comprised of very talented men and women who create music that is not only appealing to children but to grown-ups too. This is very refreshing to me because it is nice to listen to a CD over and over (and over) again that has a nice beat and interesting, pleasant vocals.
The "I'm So Glad" cd is upbeat and as expected my five year old was dancing and singing along to fun songs such as "The Tongue Song", "Crocodile", "Water Lily" and "Blue Sky Time". His two favorite songs were "Kangaroo" which had him hopping and jumping and "Tyrannosaurus".
I homeschool my children so we use this cd in our music appreciation class. I have my three children listen to a song and try to guess what instruments they hear playing such as drums, piano, organ, guitars and even synthesizers. My seven year old son brought out his guitar to try to play along to the music by mimicking the beat.
My family and I really enjoy listening to this Alex & the Kaleidoscope Band musical CD. I love how the songs teach a lesson or tell an entertaining story through the lyrics and music. The energy of the musicians is captivating and really engaged my children for a great time singing and dancing.
You are invited to visit the Alex & the Kaleidoscope Band website to learn more about the group, listen to a sampling of the songs or purchase "I'm So Glad" on CD for only $8.00!
Disclosure: I was not financially compensated for this post. I received a sample of the product for review purposes. The opinions are my own, based on my personal experience with the product.