Book Review | The 7 Principles of Fat Burning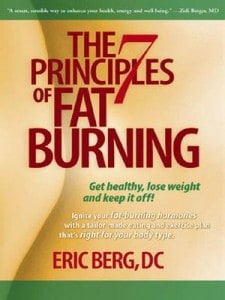 Title: The 7 Principles of Fat Burning
Author: Eric Berg
My Review:
I have read a lot of nutrition and fitness books over the years and while I enjoy gleaming bits of information I haven't learned before The 7 Principles of Fat Burning literally stopped me in my tracks! My husband Mark is tall and lean despite consuming massive amounts of calories, junk food and no regular workout program (though he is active). In contrast, I eat very healthy foods, consume 1,300 calories per day and make an effort to workout but struggle to lose weight especially after having three back to back pregnancies. I have heard this same story from friends time and time again but still followed the convention wisdom of cutting calories will result in long term weight loss and lose weight at a snail's pace.
In The 7 Principles of Fat Burning (hardcover SRP $26.95) by Eric Berg, DC he introduces the reader to the concept that in order to lose weight in a healthy manner you will determine your body type in terms of the Adrenal type, the Liver type, the Ovary type and the Thyroid type. By taking a quiz, you can determine which body type you have and ultimately what hormones are taking a major role in your overall health and weight loss abilities. Once you have identified your type you will start with the Liver Enhancement plan and then move to the enhancement plan tailored specifically for Adrenal, Liver, Ovary or Thyroid in order to lose weight and feel great.
I took the quiz and was astounded by the results….overwhelmingly I fell into the Adrenal category and realized that some of the things that I assumed were healthy (i.e. drinking lots of water even if I am not thirsty) could be sabotaging my weight loss efforts. On a side note, it also had important clues that could help lead me in the right direction for my young daughter's severe asthma.
The book includes sections on nutrition (it offers sample meal plans) and exercise and I even tried a few of the recipes for the Adrenal plan which were a hit with the entire family including the Walnut Chicken and Chicken with Herbed Cheese.
If you are struggling with weight loss despite giving it your best efforts or want to learn more about how hormones can play a role in controlling fat burning then I highly recommend reading The 7 Principles of Fat Burning in hardcover, e-book or kindle editions. It is available for purchase at major retailers but can also be purchased online at Dr. Berg's Shop.
Connect with the author, Eric Berg on Facebook and Twitter.
*I received a copy of this book for review, but was not compensated financially in any way. The opinions expressed are my own and are based solely on my experiences while reading this book.*