Book Review | Wicked Game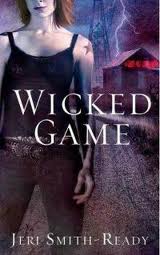 Title: Wicked Game
Author: Jeri Smith-Ready
My Review:
In an effort to straighten out her life, former con artist Ciara Griffin accepts a position as a marketing intern at WVMP Radio, a station which hosts several late night shows featuring music from decades ago. Ciara thinks it's a joke when she receives literature from her new boss about the shows' DJs being vampires, but the truth is revealed when Shane, the DJ for the '90s show, unsheathes his fangs and makes a literal point.
Instantly attracted to Shane–despite his undead status–Ciara becomes part of the WVMP family. Elizabeth, the owner of WVMP, has decided to sell the station to Skywave for a tidy profit. Vampires need strong ties to the decade of their death in order to keep from fading away, and Elizabeth's decision could mean Ciara will lose Shane forever. Tapping into her con history, Ciara dreams up the perfect plot to make the station popular once again. Doing so attracts the attention of vampires who wish to keep their true nature a secret from all the world.
Wicked Game is the first in the WVMP Radio series from Jeri Smith-Ready. This series has been on my "to-read" list for years, and now that I've read the first one, I'm wondering what took me so long to finally read it. For years I have been a fan of the urban fantasy genre, and by now I didn't think it was possible to put a fresh spin on vampires, which I've admittedly grown tired of over the last few years. In Ready's take on vampires, they aren't all-powerful, blood thirsty monsters. Shane actually seems like a pretty average man, aside from the fact he needs to drink fresh blood every couple weeks to survive. Ready's vampires are actually pretty vulnerable, but there are also dark, evil ones thrown into the mix.
I thoroughly enjoyed this first in series, aside from one minor criticism. After only meeting briefly for a few minutes, Ciara is smitten with Shane and basically throws herself at him when he shows up at her apartment to prove to her vampires are real. From there, it's almost like instant love. I prefer a bit of tension in the relationship, some teasing before the couple finally gets together. But right from the start, Ciara and Shane are a solid match.
There is some serious potential for the WVMP Radio to become one of my favorite urban fantasy series, so I cannot wait to get caught up on the rest of the books. Jeri Smith-Ready has also written a paranormal YA series, which I've enjoyed. I'll be adding this author to my "watch for new releases" list.
*I received a copy of this book for review, but was not compensated financially in any way. The opinions expressed are my own and are based solely on my experiences while reading this novel.*