Verb Professional Hair Care Review
I love to try hair care products that are made without sulfates and parabens but because I have highlighted, long hair that I straighten with a flat iron it has been hard to find a product line that really works for my hair. My search has ended because the Verb professional hair care line is made using high quality ingredients, is both sulfate and paraben free and it is attractively priced at just $12-$14 each. Most importantly…..it really works! There is a full line of Verb products including a Hydrating Shampoo, Hydrating Conditioner, Conditioning Leave-In Mist, Styling Cream, Finishing Polish, Sculpting Clay, Volume Spray and Ghost Oil.
I shampoo every other day and really like the mild, color-safe Hydrating Shampoo which comes in a 12 ounce recyclable bottle. It has a soft, fresh scent and a nice lather even though it is sulfate free. My hair was very soft and easy to comb (after shampooing and conditioning) because this shampoo includes one of my favorite personal care ingredients-organic Argan oil.
The Hydrating Conditioner is designed to "enrich and restore" moisture to the hair and it works as promised. My hair is very hard to detangle and I rely on good conditioners…this one hits the mark because it is rich and luxurious leaving my hair very soft and conditioned without weighing it down at all and I like that it feels like it rinses very clean. I find a little bit of this conditioner goes a long way so it is a good value too.
After shampooing and conditioning, I spray the Leave-In Conditioning Mist onto my hair and then comb through with no frustrating tangles. I also use this spray in conditioning mist on my children's hair with good results too. When using this product, I notice that our hair has less frizz (especially when I let it dry naturally curly) and it also protects it from heat when I plan to blow dry and flat iron.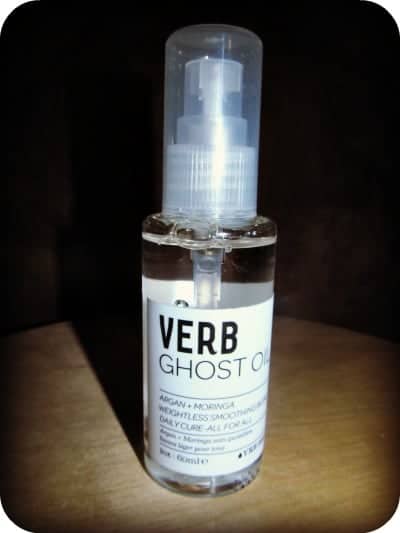 My favorite products in the line are the Ghost Oil and the Volume Spray. The Ghost Oil combines Argan and moringa oils into a restorative oil that is absolutely amazing. It soaks into my damp hair before styling and is virtually weight-less. I also use just a touch on my finished style to keep out humidity and frizz. If you struggle with frizz, humidity, lack luster, dry hair then I highly recommend trying the Ghost Oil because I absolutely rely upon it for my own hair! I also love the Volume Spray for my daughter's fine hair because it gives it great bounce and body even when it just air dries….when I use it on her hair with a blow dryer for special occasions she looks stunning!
To give my style the ultimate polished look I also like the Finishing Polish and Sculpting Clay (this works great for my boy's hair). While I don't normally use a hair polish or sculpting clay because it can be too heavy for my hair, these are not and give it just the right amount of definition and shine while never weighing it down.
You are invited to head over to the Verb website to learn more about this fabulous hair care line and select the perfect products for your hair. Verb is available for purchase nationwide at all 450 ULTA Beauty stores and on ULTA.com.
Disclosure: I was not financially compensated for this post. I received a sample of the product for review purposes. The opinions are my own, based on my personal experience with the product.