I love to introduce my husband and children to new flavor profiles and Thai Kitchen makes it easy for me to make delicious Thai meals at home. The aroma of garlic, Thai basil, lemon grass and other spices permeate throughout the kitchen inevitably bringing my husband and kids into the kitchen to ask "What is that wonderful smell?"
Thai Kitchen offers conveniently packaged high-quality ingredients and even pre-cooked meals which is perfect for adventurous families. I was able to take a variety of Thai Kitchen ingredients and add my own meat and vegetables and create a delicious meal that was a big hit with my family.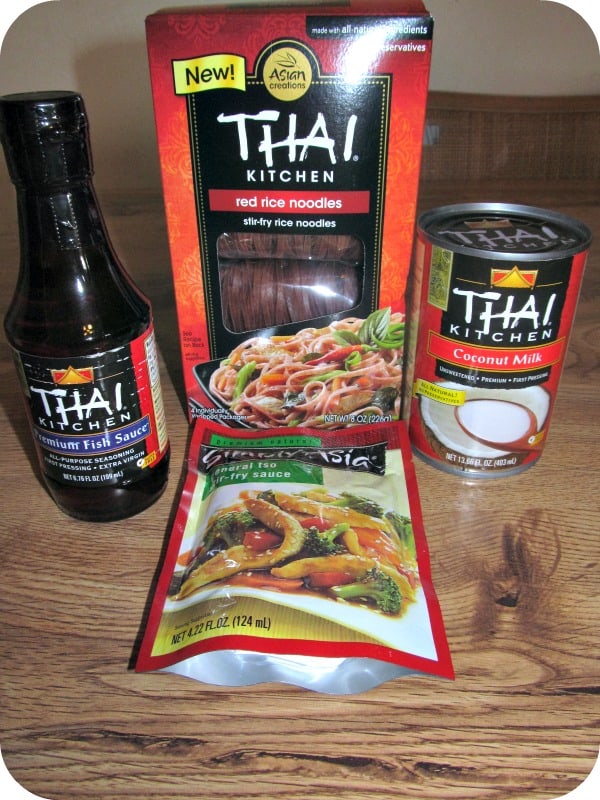 I started by sautéing stir fry vegetables such as broccoli, red and green peppers, onions and garlic and then added lean steak strips and Thai Kitchen General Tso Stir-Fry Sauce. I placed this atop Thai Kitchen's Red Rice Noodles and served it to my family…….not one drop of food was left at the end of the meal. My husband who is not a fan of rice itself actually enjoyed eating these noodles and my kids thought the red hue of the noodles was really interesting.
Some of my other favorite products to use from Thai Kitchen that are a staple in my pantry is the canned Coconut Milk, Rice Noodle Soup Bowls and the 10-Minute Simmer Sauces for the busy evenings when I want to prepare a tasty, quick dinner.
I was very pleased to add several new spices to my spice rack including the delicious Thai Basil (this is amazing), Lemongrass and Thai Ginger. I also like to add a splash of the Premium Fish Sauce to some of my recipes to give it extra flavor.
I appreciate that most of the products from Thai Kitchen are gluten free, have no MSG, artificial flavors or colors! This is a convenience food product line that I can feel good about serving to my family and best of all no one would even know that you didn't make it all from scratch because the ingredients taste so fresh!
From tasty Curry dishes to Pad Thai there is sure to be something delicious for you to try! Thai Kitchen products are available at many grocers and retailers nationwide and can also be purchased online. You are invited to visit the Thai Kitchen website to browse all of the excellent Thai products and check out all of the fabulous recipes online……..which one do you think your family would love?
Disclosure: I was not financially compensated for this post. I received a sample of the product for review purposes. The opinions are my own, based on my personal experience with the product.