Snack Pack "No Tradesies" Lunch
When I was a kid my mom had her work cut out for her. I was an extremely picky child and hated almost every single food out there. I remember hiding my uneaten sandwich from lunch in the culvert in our driveway…not knowing my mom was watching me from the picture window in the living room. Oops. Thankfully, my kids did not inherit my extreme pickiness though they do have their moments!
My 8 year old daughter, Bridget, has her preferences and I don't mind taking her grocery shopping with me. I figure this way she can choose snacks she likes to eat. On our most recent shopping trip, I had her pick out some snacks that she wanted for lunch. In the produce section, she asked for strawberries while in the deli she wanted ham for her sandwiches. We also grabbed a bag of Goldfish crackers in Pizza flavour. For a drink, she selected Apple Juice that was unsweetened. I think she made some pretty good choices and I knew she would be more likely to eat everything since she picked them out herself.
At home, we already had some Snack Pack pudding and Juicy Gels. The kids have been taking them in their lunches for years and they are always a hit. I have no worries about them not finishing them. Heck even John and I enjoy eating them too. The Juicy Gels are made with real fruit juice and are a fun treat for kids. The puddings are made with skim milk and have no preservatives or trans-fats. They are available in the classic flavours (chocolate, chocolate fudge, vanilla, butterscotch, tapioca) and dessert flavours (ice cream sandwich, lemon meringue pie, banana cream pie, chocolate caramel, toffee caramel). If you are counting calories, try Fat-Free Chocolate and Fat-Free Vanilla flavours as they have only 90 calories or less per serving.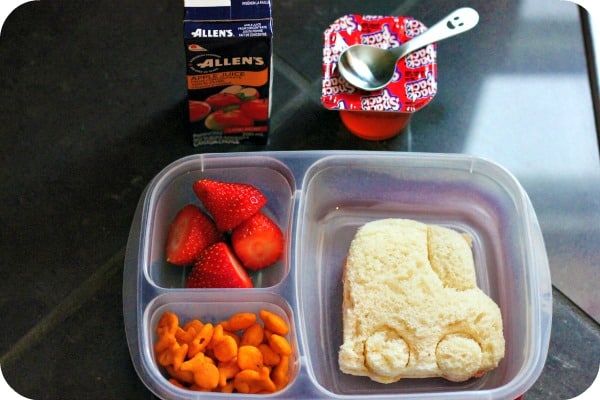 I made her a lunch that I knew she would eat and there were "no tradesies" going to happen here! It included a ham & cheese sandwich in the shape of a car, Goldfish crackers (pizza flavour), strawberries, Apple Juice and a Snack Packs Orange Juicy Gel.  And I was right. She ate the whole thing.
Tips for Creating a "No Tradesies" Lunch
Can't get your kids to eat their fruit? Adding Snack Pack to the mix turns fruit into a tasty, dip-able adventure. Try the Caramel Apple, all it takes is some apple slices and a Toffee Caramel pudding
Sandwich Shape-up: Even a favourite sandwich can seem boring and routine when it shows up in the lunchbox day after day. Keep things interesting and kids engaged by breaking out the cookie cutters and cutting the sandwiches into fun shapes.
Kebab it up: skewering some bite-sized veggies on a kebab with a side of veggie dip is a different and fun way to make sure veggies are not coming home at the end of the day.
Utensils are key: let your kids pick out their utensils, napkins and lunchboxes. They definitely won't be reaching for the aluminum, and giving them a say means they will take pride in their lunch pack. Have bright, colourful spoons on hand so kids can choose whether it's a yellow, blue or orange kind of day!
For more lunch packing ideas, check out the Snack Pack Canada Facebook page.
Giveaway
One Canadian reader will win a Snack Pack "No Tradesies" prize pack containing two delicious flavours of Snack Pack pudding, Lunch Punch Sandwich Cutters, Happy Spoons, a mini portable travel speaker and a tote-able lunch bag consisting of a cooler bag and four leak-proof, compartmentalized food container (ARV $50)!
Check out the list of all my current giveaways!
Disclosure – I am participating in the Snack Pack "No Tradesies" blog tour by enCompass Media on behalf of Con Agra Foods. I received compensation as a thank you for participating and for sharing my honest opinion.