PicturesOnGold.com Photo Locket Review
I am really excited to share with you the beautiful collection of Valentine's Day Lockets from PicturesOnGold.com. I always get so many compliments when I wear my favorite pieces of personalized jewelry from PicturesOnGold.com and my newest locket is absolutely stunning!
I will have fond thoughts of my sweetheart close to my heart this Valentine's Day and ever after whenever I wear my lovely Sterling Silver Heart "Valentine" Sweetheart Heart Photo Locket ($59.95 on sale from SRP of $63.95) on an 18" sterling silver box chain. On this front of this locket is a vibrant red rose with hearts design. Inside the locket on the right side is a personal photo that is laser engraved in your choice of color or black and white (photo engraving is $35 per photo). On the left side, I engraved it with my message of love for my husband. He commented that this necklace was beautiful and he said it was very special to him that I wear a necklace with our picture on it and my words of love expressed just for us. What is most impressive is the attention to detail and it is really amazing how they can take a photo and then use a laser to engrave it so perfectly onto the locket.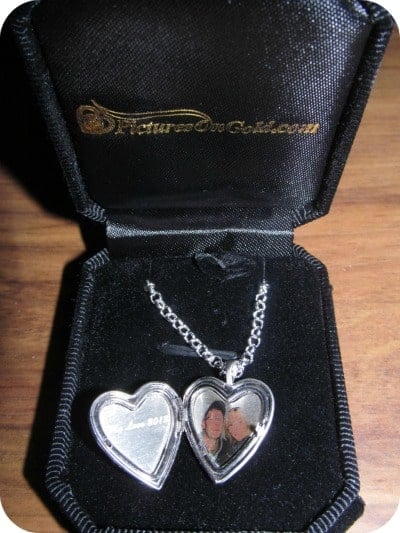 The quality of the jewelry at PicturesOnGold.com is exceptional and the prices are attractive for most budgets with a wide range of selections in a variety of price points. I really like the personal touch of Photo Engraved Jewelry and there are also other great ideas too including Locket Jewelry, Religious Jewelry, Medical ID Jewelry (I love this for my six year old daughter who has severe asthma), Signet Rings, ID Bracelets, Tarot Card Jewelry, Wedding Bands and much more.
You are invited to visit PicturesOnGold.com to create a beautiful photo locket for yourself or a loved one or browse the entire collection of photo jewelry and photo lockets.
Disclosure: I was not financially compensated for this post. I received a sample of the product for review purposes. The opinions are my own, based on my personal experience with the product.