Picture Keeper Review
I love to take pictures – my main subject being my two boys. They are growing so fast and do so many cute things, that I find myself snapping away all the time (especially now since I have an iPhone with a nice camera). I download my pictures to my computer almost daily, and to be honest, I get scared at the thought of ever losing them! With so many complicated backup options out there, I'm glad to have been introduced to an easy, quick way to back up all of my photos for safekeeping – the Picture Keeper.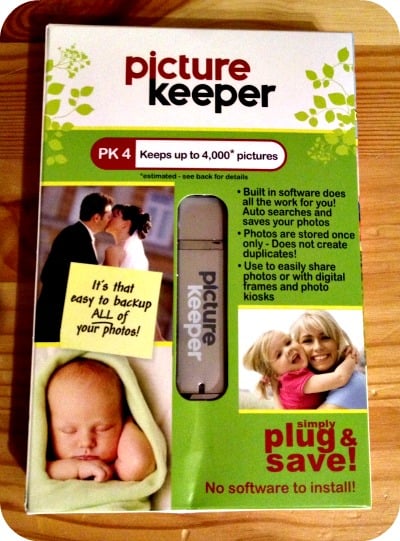 When I read about the Picture Keeper I was excited at the thought of having an easy way to back up all of my photos. When the thin little USB drive arrived, I was excited to get started – and after a quick scan of the directions I plugged the drive into my computer and was able to start my back up in mere seconds! All I had to do was launch the program on the drive and it automatically detected the photo files on my computer and started to back them up. I didn't have to drag and drop files, I didn't have to tell the program where to go to get my photos – I literally just had to hit "start". In about 15 minutes, the drive stored over 1700 photos (I told you I take a lot of pictures!). Depending on the size of the photos on your computer, the Picture Keeper has the capability to store over 4000 photos. I couldn't believe how easy this was to use. Beyond the ease of use, there are a ton of other features of the Picture Keeper that I love:
You can view and delete the photos from the Picture Keeper after you've saved them
The Picture Keeper will not re-save files – once you've saved a photo file to the drive, it remembers that file so you're not "over saving" files and wasting space
Each time you plug it in, the Picture Keeper will automatically detect any new/changed files since the last time you used it
You can customize the device to save videos as well
Picture Keeper is the latest offering from Simplified I.T. Products, LLC – a company devoted to developing simple, affordable solutions for the mass market. Picture Keeper is the world's first all-in-one USB device with embedded software to protect pictures and other irreplaceable files. It is currently available in over 4000 U.S. retail locations including Walgreens, Hobby Lobby, RadioShack and many independent photo retailers and scrapbooking stores with an MSRP of $30. While supplies last, you will receive a free Picture Keeper with any purchase from Mailpix.com.
To learn more about the Picture Keeper, visit their website.
Disclosure: I was not financially compensated for this post. I received a sample of the product for review purposes. The opinions are my own, based on my personal experience with the product.