Olay Total Effects Giveaway
This March, I'll be 35 years old. I remember when I used to think 35 was so old. It's crazy how much things change as we get older. It does not seem that old now! As each year passes me by, I do think about aging and am always looking for signs. I've noticed my metabolism isn't as fast and I don't like to listen to the music as loud anymore in my car.
I'm also watching out for wrinkles. I used to curse my oily skin, but it actually turned out to be a blessing in disguise because it's helping to slow the aging process. However, I am noticing my skin becoming less oily so I am starting to use more anti-aging products. I've got good genes though. My mom is in her mid-50s and still looks great. I hope I take after her!
She's been using Oil of Olay products for as long as I can remember. She believes that it's never too early to start caring for your skin. Nor is it too late if you haven't yet got an anti-aging skin regimen down pat.
Olay Total Effects products fight the seven signs of aging which are:  fine lines and wrinkles, rough texture, the appearance of prominent pores and age spots, uneven skin tone, surface dullness and dryness.
Check out the info below about how each product works!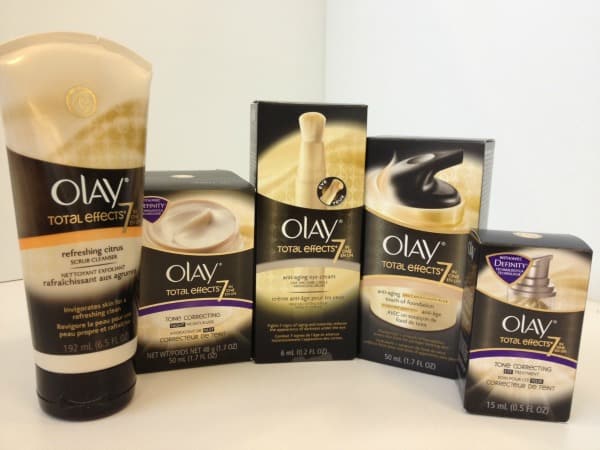 Olay Total Effects Daily Anti-Aging UV Moisturizer Plus Touch of Foundation Cream provides seven anti-aging benefits including line appearance minimization, nourishing moisturization, subtle appearance firming, brightening, gentle exfoliation, pore appearance refinement and anti-oxidants. It helps renew, restore and protect from UV rays for aging skin with the added benefit of a sheer foundation for immediate tone improvement.
Olay Total Effects 7-in-1 Anti-Aging Eye Cream Line and Dark Circle Minimizing Brush helps to instantly reduce the appearance of darkness under the eye all in one sweep of a brush. It contains a daily under-eye moisturizer that hydrates to firm skin's appearance and minimizes the look of fine lines and a hint of tint instantly reduces the appearance of dark circles.
Olay Total Effects Refreshing Citrus Scrub offers an invigorating scrub that cleanses your skin without over-drying. Formulated with oil-absorbing beads, it gently exfoliates and cleanses thoroughly while the citrus kissed formula refreshed your skin.
Olay Total Effects Tone Correcting Night Moisturizer provides deep hydration and helps fight signs of aging with a vitamin-rich complex designed to smooth away the appearance of discolouration and age spots as you sleep.
Olay Total Effects Tone Correcting Eye Treatment treats the sensitive and delicate skin under the eye that needs to be treated with TLC. This treatment diminishes the look of under-eye darkness and helps to fight seven signs of aging.