New Products from Kellogg's
Kellogg's recently introduced three new products! Unfortunately none were available at the store in our local town (think extremely small selection!), but I was able to pick up all three at the Sobey's a couple towns over.
Special K Morning Shakes
Try these creamy smooth protein shakes first thing in the morning. They contain 10 grams of protein and have 12 essential nutrients in one serving. Available in packs of four and in three flavours: vanilla, chocolate and strawberry. I handed these to John to try since I'm limiting the amount of sugar I consume. He tried the vanilla and said they were good and took the edge off his hunger.
Eggo Minis Waffles
I remember living on Eggo waffles when I was a kid. They were quick and easy and something a kid could make! Eggo Minis are the same delicious taste but with a new design. They are separated into four mini squares that look like toast so that kids can easily break apart and eat. They come in two flavours: Original and Cinnamon Toast. Both John and Bridget enjoyed them although John said he wished they were bigger. I told him they are more for kids.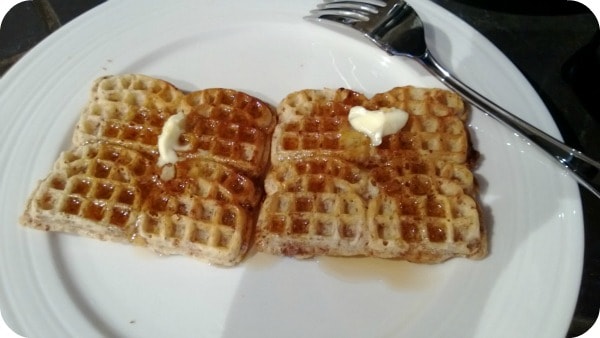 Special K Flatbread Morning Sandwiches
Mmm breakfast sandwiches…one of my fave ways to start the day! They come in three varieties: Egg, Ham & Pepper Jack Cheese, Egg & Sausage and Egg with Vegetables & Pepper Jack Cheese. They are made with multi-grain flatbread and take 2 minutes to cook in the microwave from frozen. John can eat two in one sitting so I'm going to have to buy more than one box!
Have you tried any of these new products from Kellogg's?
Disclosure: I was not financially compensated for this post. I received a sample of the product for review purposes. The opinions are my own, based on my personal experience with the product.