Lafes Review
I love to discover new all-natural personal care products and recently had the pleasure of trying products from Lafes. Taking pride in a wide selection of personal care products that are made using the best all natural ingredients, Lafes has skin care and personal care products for the entire family. You won't have to worry about synthetic chemicals and there are absolutely no parabens, propylene glycol or artificial ingredients.
One of the personal care products that I had difficulty finding that really works is all natural deodorants but thankfully that search is over because I discovered Lafes Roll-On Deodorant ($5.99). This all natural roll-on deodorant is 72% certified organic and is made with organic hemp oil, aloe vera and essentials oils. It has a nice, subtle scent which reminds me of baby powder and it kept me feeling fresh even when biking and hiking. Most importantly, this deodorant does not contain aluminum which has been a worry when it is in conventional deodorants I have used in the past.
Living in Florida, it is imperative that we are "armed" with a reliable bug repellent. I carry Lafes Baby Insect Repellent ($8.99) in our bag with us everywhere and we don't have any problems with biting insects swarming around us. It works by combing a specific blend of botanical oils which really works to repel insects in a convenient spray that is easy to apply. It is also chemical and DEET free so I feel confident spraying this on my children and I was delighted to learn that the actual bottle itself does not contain BPA, phthalates or chemicals which could leach in to the product prior to using it on the child's delicate skin.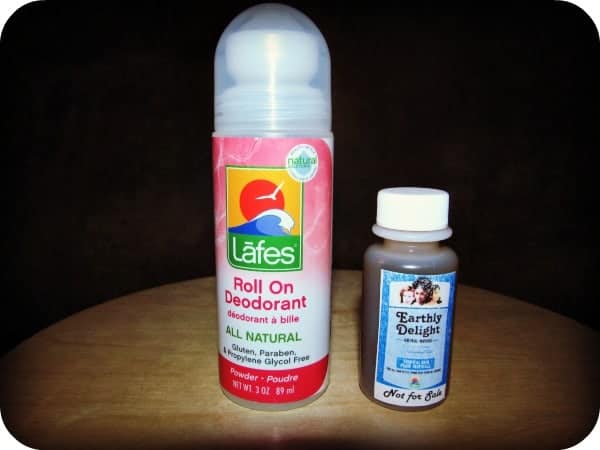 Lafes Lip Balm is perfect for dry winter lips and I really like the Winter Mint which is very moisturizing. These are great to keep next to your bed to apply before going to sleep at night and then make sure to have another lip balm tin in your bag for use during the day.
The Earthly Delight hair products are a real treat for the hair (and the senses because it smells great). I used a sample of the Tropical Rain Shampoo and Conditioner on my daughter's hair and want more! There are no harmful chemicals to worry about and the protein rich formulas left her hair super soft and shiny.
You are invited to visit the Lafes website to browse the entire selection of natural personal care products for your entire family. From natural deodorants, baby care products, hair care products, lip balms and more there is a full line available to stock your bath with wonderful alternatives to chemical-laden products. You can purchase Lafes online or at retailers nationwide including Whole Foods.
Disclosure: I was not financially compensated for this post. I received a sample of the product for review purposes. The opinions are my own, based on my personal experience with the product.