My family enjoys hiking and biking in the woods and I always have the concern in the back of my mind that we should have extra protection in case of an emergency. The iSafe Urban Crew Backpack with a built-in alarm is an excellent solution and accompanies us on all of our outdoor adventures.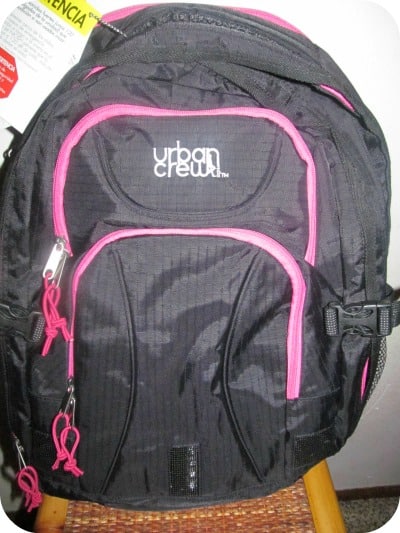 iSafe Bags proudly provides you and your loved ones with personal security that is easy to use and can be taken anywhere. The Urban Crew bags are rugged, surprisingly light-weight and durably designed with a concealed activation switch in the flap. Simply re-insert the pin to deactivate the alarm. The Urban Crew alarm was designed to get attention in an emergency with high decibel sirens and a high intensity strobe light which can be seen for up to 400 yards. When we go hiking/biking in the back woods, we pack our iSafe Urban Crew backpack with water, food a medical kit and I feel confident that if we were to get lost or need assistance this bag could be a potential life saver.
The Urban Crew Laptop Backpack has loads of features that I like including a foam back and S-Shaped Shoulder strap making it extremely comfortable to wear even for hours at a time. It also is designed for ease of use with a laptop compartment, organizer compartments, spacious interior, side mesh pocket for my daughter emergency asthma inhaler and deep pockets to hold all of our necessities. This is the perfect back for outdoorsman and as a safety backpack for children (and adults) of all ages.
The iSafe Urban Crew Laptop Backpack with Built-In Alarm is available for purchase for the SRP of $89.99 and is an excellent value in my opinion in terms of security, function and style. I was able to teach all three of my young children how to use it in a matter of minutes and would feel more confident with each of them having their own iSafe bag. When this alarm sounds it is sure to be a startle any potential predator giving the victim valuable seconds to get attention and ultimately avoid a devastating situation.
You are invited to visit the iSafe website to browse the entire selection of high quality built-in alarm bags in a variety of attractive price points and styles. You can purchase the Urban Crew bag online or at major retailers including Amazon, Walgreens, ToysRUs.com and more.
Disclosure: I was not financially compensated for this post. I received a sample of the product for review purposes. The opinions are my own, based on my personal experience with the product.