Identity Theft Prevention
When John and I were getting to know each other, we talked about our love for scary movies. I asked him which movie he thought was the scariest of all and his answer caught me a little off guard. I was thinking he would go with something with gore or a crazy killer in a mask. Instead he tells me that he thought the movie, The Net, was the most scariest movie ever made. It came out in the early 90s and starred Sandra Bullock and was about someone stealing her identity and wreaking havoc on her life. His answer got me thinking more about identity theft and just how awful it would be. And it's a real threat!
In 2011, 17,008 Canadians were a victim of identity fraud. That's 46 people a day! It's a terrifying statistic and one that has me taking extra steps to protect myself. I blogged before about being a victim of debit card fraud in 2006. My card info was taken off a debit card machine at a gas station and someone withdrew $500 from my bank account in Montreal. I got the money back from the bank, but that experience left its scars. I'm less trusting now even at stores I visit all the time.
Another way I'm protecting myself now is by shredding any document that has personal information on it with my Fellowes Powershred 69Cb. I reviewed it a few months ago and it's been a welcome edition to our home. You can check out my review and read more about the top 10 must shred documents. Some on the list surprised me, but I'm glad I'm more aware now. Shredding isn't something that businesses only do. People should do it as well to protect themselves.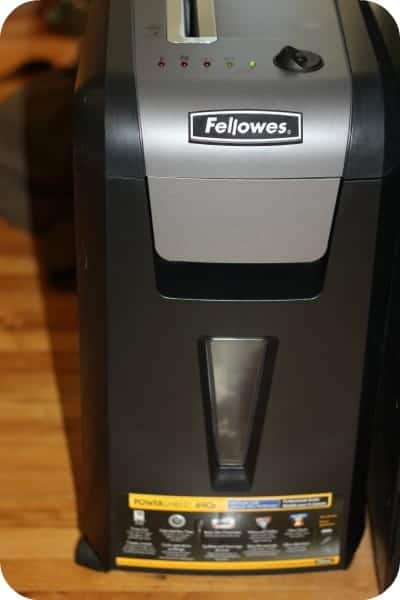 Fellowes Canada has set up a Facebook page dedicated to providing Canadians with information about identity theft and prevention. You will find tips, related articles and even a forum where you can ask questions about identity. On the Resource page, they have an ID Theft Prevention Kit that you can download and information about what to do if you become a victim of identity theft. This page is a valuable resource for everyone and I encourage you to like them to keep up-to-date. They shared a post about the top 10 scams of 2012 that I found very eye-opening.
I encourage you to check out the tips and their page and educate yourself. I believe awareness is so important to protect ourselves! Also, consider picking up a Fellowes Shredder for you home office. Trust me, they rock!
Pick up your Fellowes Powershred 69Cb at your local Staples across Canada.
About the Fellowes Powershred 69Cb Shredder
Jam Blocker™ blocks jams before they start
SilentShred™ offers ultra-quiet performance for shared workspaces
Patented SafeSense® Technology stops shredding when hands touch the paper opening
Shreds 10 sheets per pass into 5/32"x 2" cross-cut particles (Security Level 3)
Maximum run time: 10 on / 20 off
5 gallon pull-out bin
For 1 user
Disclosure:  I received a sample of the product for review purposes. The opinions are my own, based on my personal experience with the product.