Dole Fruit Crisp Review
Dole Fruit Crisps make for a quick & tasty snack to abate those hunger pangs. John and Bridget to a lesser degree seem to be always hungry. I usually like to have a few snacks in the cupboards and fridge for them to hold them off till their meal is ready. John especially loves fruit cups so I figured he would really like the Dole Fruit Crisps. I was right of course!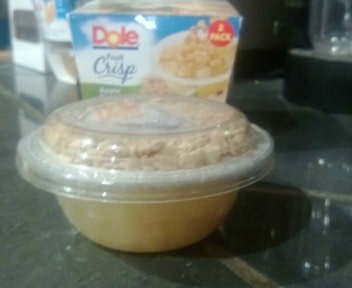 We tried two flavours: Apple Pear and Apple Cinnamon. There's two compartments in each cup: the bottom has the fruit and the top part is the crunchy oat topping. Mix together and serve. You can also heat it up in the microwave and serve warm. It reminds me of Apple Crisp this way.
Dole Fruit Crisps make a great snack for the kids to bring in their school lunches. They are also a quick breakfast when you are in a rush.
Disclosure: I was not financially compensated for this post. I received a sample of the product for review purposes. The opinions are my own, based on my personal experience with the product.