Denise Austin: Shrink Belly Fat DVD Review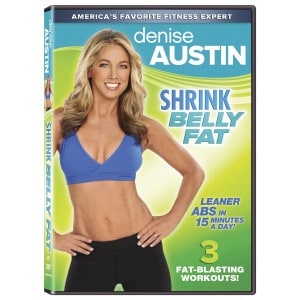 Title: Denise Austin: Shrink Belly Fat
My Review:
Over the past year, I participated in the Nutrisystem #NSNation bloggers weight loss program and lost a total of 12 lbs. At my greatest loss while using the Nutrisystem meal plan, I lost a total of 17 lbs. I did all of this without working out, however. I have never enjoyed working out. Many of the at-home DVD programs that I have tried involve far too much fancy footwork for this clumsy girl. My other downfall along with not getting enough exercise is eating out and choosing the wrong types of food to eat. We have gone out a total of 4 times in the past week. At first I didn't notice much of a difference in my weight or the way I felt, but today I woke up and saw a rounder belly that stuck out a bit too far for my liking. I always gain the first weight around my tummy area, although other parts of me look more slim. I spent the last 12 months going through a very hard journey, trying to learn how to eat better foods and taking care of myself physically.
I have had Denise Austin's Shrink Belly Fat workout DVD in my house for weeks, but I could not find the motivation to start working out and keeping it up daily. It turns out that fear is a great motivator; I've bought a lot of new outfits to flatter my slimmer figure and I still want to look great in them. There are two things I need to do to make this happen: keep eating healthy foods and work out a little bit every day.
I chose to try Denise Austin's Shrink Belly Fat DVD because I have an easier time working out when I have someone guiding me along in the process. Years ago, I had a personal trainer to help me get in shape. It's more expensive to have a personal trainer than the cost of one DVD that I can use over and over for a flat price, so I wanted to make this work. This DVD in particular appealed to me because it promises "leaner abs in 15 minutes a day". I know what I am telling myself, and what some of you are probably telling yourself; you don't have 15 minutes a day to work out. Yes, both you and I do. Stop playing games on Facebook. Log off of your IM. TiVo your favorite 30-minute sitcom.
You may need the following items to begin your workout:
1 hand weight (I began with a 5 lb. weight because I have a weak back)
Mat (I did not use one; our living room is carpeted and I had no problems whatsoever)
The next step is to choose your workout. You have three 15-minute workouts to choose from:
Cardio Abs
Athletic Abs
Classic Abs
You are given the option to work out with Denise Austin's instructions, or to work out with music only. If you choose the music only option, you will still see Denise Austin and her workout crew doing all of the motions. This would be a great option to use when you are familiar with each of the workouts.
Cardio Abs
It had probably been nearly two weeks since the last time I'd popped in any sort of workout DVD when I decided to start with Denise Austin's Cardio Abs. I wanted to start with this workout because I felt as if I'd gained several pounds in a single week, and this workout targets belly fat while burning calories.
This is a complete workout, beginning with a warm-up and then slowly picking up speed as the workout progresses. The routine includes twists, breathing exercises, side bends, punches, sidekicks, spider walk, lunges paired with twists and reaches, and so much more.
As a beginner, I found this to be a pretty challenging workout. There were a few moves I was unfamiliar with, such as the spider walk. That move really frustrated me, and I had to pause the DVD and rewind to try to keep up with them. It takes a lot of focus to be able to make it through this workout because so many things are happening. Not only did I get an ab workout, but I felt the burn in my arms, legs, and back as well. My recommendation is to watch this through workout once or twice before trying it out so you know what's coming next.
Athletic Abs
If, like me, you are not very coordinated, I suggest watching this workout at least once (though maybe two or three times) before you get on the floor and try it out. Since I felt I did all right keeping up with the Cardio Abs portion of the DVD, I decided to jump right in with Athletic Abs.
The workout starts out simple enough with breathing and stretching techniques, and easing you into something she calls a Camel. As the workout progresses, the routine gets a little more complicated when there are at least three different moves to do during one exercise.
In order to make it through this workout, you'll need to have good balance paired with arm and leg strength or you will find yourself toppling over more than once. I became so frustrated with some of the moves, especially the side crunches paired with pulling my leg in. Luckily, some of the moves are for more advanced users, so you can work your way up to accomplishing them.
The Athletic Abs workout will be a challenge to beginners; I was winded, sweaty, and thirsty not even five minutes through the workout.
Classic Abs
This workout contained all sorts of moves that I was already familiar with, making the easiest of the three 15-minute circuits on this DVD for me to get through. I felt it was the least physically demanding of the three workouts; you're not required to do as much motion with your arms and legs in these classic moves. You also will not need weights for this circuit.
I was happy to see some familiar moves, such as the Bicycle, various crunches, and a variation on one of my most hated moves, the Plank. You'll actually be asked to do two different Plank movements, and I had a difficult time making it through the Plank which required you to "walk" while holding the position.
Of the three workouts offered on this DVD, I recommend beginners start with Classic Abs and then as they become familiar with the requirements, move on to the other sections of the DVD.
Disclosure: I was not financially compensated for this post. I received a sample of the product for review purposes. The opinions are my own, based on my personal experience with the product.