Book Review | The Demonologist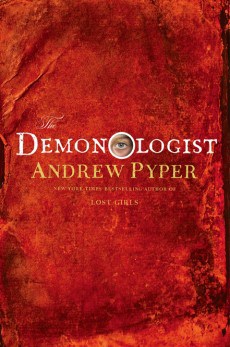 Title: The Demonologist: A Novel
Author: Andrew Pyper
About the Book:
The Demonologist is the spellbinding story of Professor David Ullman, an expert in the literature of the demonic- notably Milton's Paradise Lost. David is not a believer, but one afternoon he receives a visitor at his campus office who offers him an intriguing invitation: travel to Venice, Italy, witness a "phenomenon", and offer his professional opinion, in return for an extravagant sum of money. Needing a break from his strained marriage and a barrage of bad news, David accepts the offer and heads to Italy with his beloved twelve year old daughter Tess.
What happens in Venice sends David on a harrowing journey from skeptic to true believer, as he comes to terms with the possibility that demons really do exist. In a terrifying quest guided by symbols and riddles from the pages of Paradise Lost, David attempts to rescue his daughter from the Unnamed- a demonic entity that has chosen him as its messenger.
My Review:
Let me start out by saying that I love a good scary movie or book. I have no problems watching them alone AND in the dark in MOST cases. However, there are a few things that do scare me. One is anything about demons and evil spirits. With The Demonologist I figured that since it's a book really how scary can it be? I read it alone in my bed until the wee hours of the night (John was downstairs on the couch though) and I was terrified! This book will scare the pants off you.
It starts out really strong with the reader getting to know Professor David Ullman and his tense relationship with his soon to be ex-wife. We meet Tess, his daughter, and  his close friend and colleague Elaine. The first eerie scene was when David had a strange request from the "Thin Woman" to go on an all-expenses paid lavish trip to Venice to bear witness to something. 
Once in Venice with the daughter, he is instructed to visit an address. He leaves Tess with a sitter at the hotel. At the house, what he witnesses will forever change him and starts the beginning of a very fast paced story. I think this is the scariest part in the entire book. I wasn't sure if I would be able to fall asleep after reading it!! I would not have wanted to be in his shoes and you couldn't pay me enough money to do what he did.
David was devastated with the strange disappearance of his daughter. I could feel how desperate he was and don't blame him for wanting to find his daughter by any means necessary. He receives a series of clues about the whereabouts of Tess. The demon is the one leaving the clues I think so expect some more scares along the way!
My only qualm with the book is the ending felt kind of rushed. I wish it would have been drawn out more so the reader could have more time for everything to soak in what was happening. There was a few spots where I had to go back and re-read because it just seemed to jump ahead too quickly. 
If I were to compare it to another book, I would say it's a bit like The DaVinci Code or Angels & Demons by Dan Brown, but much scarier! In fact, The Demonologist is in development with Robert Zemeckis and Universal Studios. I could totally see it being made into a blockbuster movie!
 *I received a copy of this book to review but was not financially compensated in any way. The opinions expressed are my own and are based on my own observations while reading this novel.*