Bissell SpotBot Pet Deep Cleaner Review
Though our dog is no longer with us, I do remember how stressful it was training him when he was a puppy. It seemed to take such a long time before he was finally trained to do his business outside. I remember always having a full supply of paper towel and cleaner to get rid of his many messes he made on our floor. I would have loved to have had a Bissell SpotBot® Pet Deep Cleaner when we were training Tex (our dog)! 
Now we just have the two cats who only do their business in the litter box thankfully. However, I do have two children and consider myself pretty clumsy. I'm forever dropping things, knocking stuff over and tripping over myself. Fun stuff I know. I'm no stranger to mess either!
With the second floor of our home all carpeted, I try to keep it looking nice, but it has its fair share of stains. Most of them came before we moved in so I'm not even sure what kind of stains they are. When we can afford it, we plan to replace all the flooring, but right now we have other tasks on our plate. I would love to be able to get rid of the mystery stains!
I wasn't sure what to expect when the Bissell SpotBot® Pet Deep Cleaner arrived. I'd only ever vacuumed the carpet and had never done much else with it. I was curious to see if and how it would work on those set in stains as well as any new spills/accidents that happen.
The Bissell SpotBot® Pet Deep Cleaner is a portable cleaner that uses deep reach technology to work on all types of tough spots and stains including dirt, grime, pet stains, coffee, fruit juices, pop, red wine and more. It works deep into the carpet to take care of the entire stain and not just the surface. It uses a powerful vacuum suction that cleans from the bottom up (and you should see the dirt it pulled out of mine- ick!). The deep cleaner uses the Automatic Smart System™ that releases the right amount of solution for that particular stain. Just set it over top of the stain, select the type of stain and walk away and let the cleaner work its magic.
It also has Microban® antimicrobial protection built right into the system. This fights the growth of odor causing bacteria, mold and mildew so your SpotBot is easy to clean and keeps it fresh between uses.
It comes with the cleaner itself as well as two cleaning fluids: Bissell 2X Pet Stain & Odor Portable Machine Formula for Carpet Spot & Stain Cleaning (8oz) and Oxy Gen2® Formula (16oz).  Setting up was a breeze. I removed the Cleaning Solution Tank and filled it up with water to the fill line. Then I added in the Pet Stain cleaning solution. The fill lines make it very easy to know how much to put in. Make sure the cap is on tight on the tank before you replace it back in the cleaner. 
I decided to do a small stain in one of the bedrooms just to see how it would work. Plug it in and place the Deep Reach Technology section directly over the stain. Power up and select which setting you want. There's two you can choose from: Surface Stain and Set-In Stain. I picked Surface Stain since this stain wasn't that bad.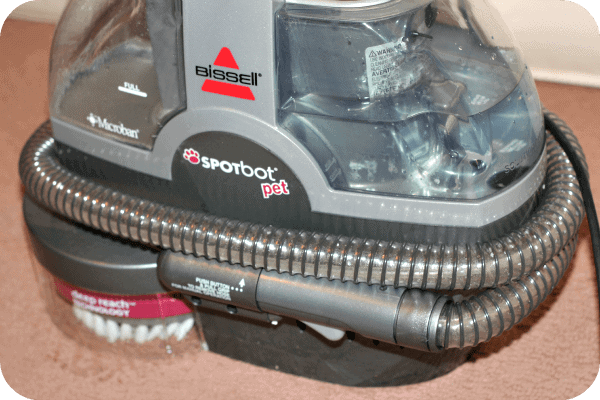 The SpotBot will work over top of the stain for three minutes on this setting. When it's done, the Finish light will come on and you will a series of beeps. Then you can press Stop to turn it off and check to see how it worked. 
For this stain, it took it completely away!
I wanted to try it out on a deeper stain and one that had been set in since we moved here. This one is in the bedroom we are currently using while we are renovating the master bedroom.  
I used the OxyGen2® Formula on this stain. The tank will show you how much to put in. It took the whole bottle that was included with the machine. It removes tough stains like red wine, pop and fruit juice and boosts the performance of the machine. You also need a small amount of the formula too.
I ran the Set-In Stain Cycle over this stain since it's for the more difficult types of stains and ones that have had time to set-in. The SpotBot will run for 6 minutes. 
At the end of the cycle, it was almost gone with only a small amount of stain still remaining.
At this point, I decided to go manual. I used the hose attachment to give a little elbow grease and it took it out completely in the matter of one minute. The hose can also be used to clean stairs, upholstery and other hard to reach areas.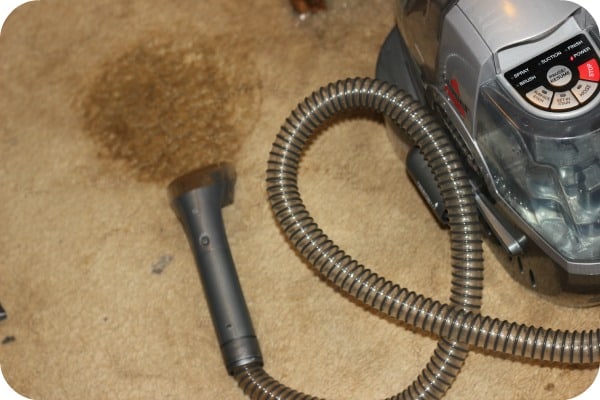 Here's what it looked like after all was said and done:
Pretty darn good if I do say so myself!
What I really like about the SpotBot is that it's handsfree! You can set it to do its job and walk away. Though at first I sat there and watched it run the cycle because I was interested to see how it really worked. It goes through various cycles of spraying the solution, brushing and then suctioning up the dirt. In the end you are left with a Collection Tank full of dirty water to empty and a clean carpet. Now that I have this handy cleaning tool in my arsenal, I may consider John's request to get a dog. We will just have to see I guess!
You will have a circular area of dampness when the SpotBot is done. It takes a few hours to dry, but that's to be expected. A steam cleaner would do the same thing.
I would also recommend buying a few bottles of cleaner so you always have some on hand especially the Oxy Gen2®.
You can purchase a SpotBot® Pet Deep Cleaner directly from Bissell ($149.99), Amazon ($134.99) or Walmart ($149.99). 
I'm extremely pleased with how well this product works. It's simple to use, requires minimal effort and does a great job at tackling tough stains. It's a keeper!
Connect with Bissell on Facebook, Twitter, Pinterest & Google+
Disclosure:  I received a stipend and product for review purposes. The opinions are my 100% my own, based on my personal experience with the product.