Art Cube Puzzles Review
My seven year old son loves art and puzzles so I was very excited to discover a collection that combines both into Art Cube Puzzles! What I didn't expect is that these cube puzzles are so much fun that I have spent an hour at a time working on these puzzles together with my children.
I learned that the concept for the Art Cubes are from a 5,000 year old Chinese puzzle that can be flipped and folded to reveal nine hidden images. The attention to detail is wonderful with bold, vibrant colors and beautiful works of art. The Art Cubes are perfect for gift giving because it comes in a matching gift box. The Story Card included with each puzzle is a treasure trove of information about artists, cultures and foreign lands. I home educate my three children and these educational, fun puzzles are a great way to include a hands-on activity along with an art history lesson.
I was also impressed to learn that there are more than 1,000 images from museums around the world showing some of the most beloved and famous works of art such as the Mona Lisa, Cats & Dogs (from the Winterthur Museum), Monet's Waterscapes, Yellow Flowers and Pink Flowers. In exchange for allowing this company to use their images, they support and promote the arts by paying museums and artists royalties which I love!
Wouldn't a custom design of a special image be a great way to commemorate a special occasion, life event or even showcase your child's artwork (I am planning to do this for my son, Adam's 8th birthday) be a fabulous gift idea? You can create your own design for your Art Cube too!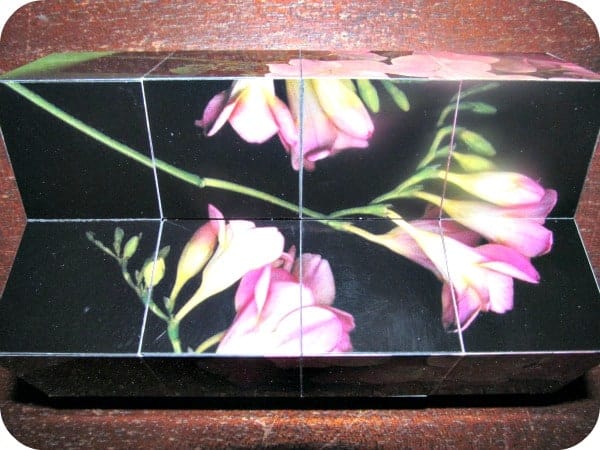 Are you ready to see the Art Cubes in action? Check out this short video introduction……..so neat!
You are invited to visit the Made in Museum website to browse the entire collection of Art Cube Puzzles and find your favorites. I warn you that it will be hard to choose because there are so many amazing images to choose from online. Art Cube Puzzles are very attractively priced at $14.95 and progressive discounts if you purchase more than one puzzle (contact them directly to get more information about custom Cubes!
Disclosure: I was not financially compensated for this post. I received a sample of the product for review purposes. The opinions are my own, based on my personal experience with the product.