Webkinz Review
If you have Webkinz fans in your home (I have three) then you won't want to miss out on the new free-to-play iPad app that makes connecting Webkinz pets for social play easier than ever for families. Parents and children can play alongside one another while building Kinzville, the interactive virtual town where Webkinz pets live. Webkinz Friends is free and you are not required to purchase a Webkinz Plush Pet but I highly recommend it because it will make the game experience even more fun with your child's pet part of the excitement.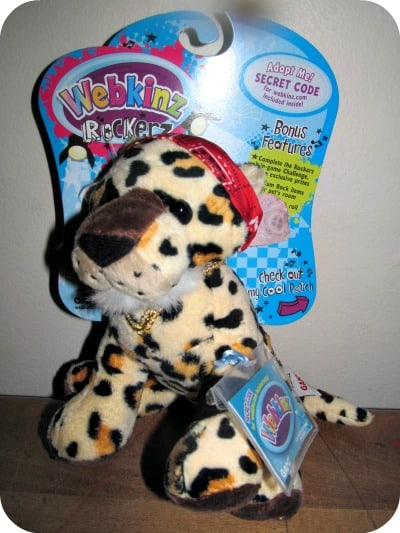 All of my children enjoy playing with their Webkinz™ plush pets but my daughter, Hannah who is age six absolutely loves doting on the pets in her special collection. Each adorable Webkinz™ pet comes with a secret code that can be used to open up an online world where members can "adopt pets, play games, go on quests, create rooms and keep their virtual pets happy and healthy". For tech-savvy kids, it is a creative way to combine playing with a precious plush pet and interact in a kid's world online.
There are adorable new Webkinz™ plush pets available in the collection including some of our personal favorites such as the Webkinz Rockerz which is an adorable spotted cat that has a Rockerz in-game challenge where kids can earn exclusive prizes, special Stadium Rock items for the pet's online room and a cute Glam rock & roll outfit. From sweet cuddly dogs (we are on a quest to find the "boxer" dog in honor of our pal, Jack) to a colorful multi-color platypus there is sure to be a favorite Webkinz Pet for boys and girls to take care of and love.
Webkinz™ is a fun, creative holiday gift idea or stocking stuffer that is sure to be a hit! You are invited to visit the Webkinz™ website to learn more about the online virtual world and to browse all of the Webkinz™ Pets.
Disclosure: I was not financially compensated for this post. I received a sample of the product for review purposes. The opinions are my own, based on my personal experience with the product.