T-fal Thermovision Electronic Kettle Review
I often drink a cup of tea in the evenings to unwind and relax.  I also enjoy the odd cup of green tea when I need a break from coffee. My mom, on the other hand, drinks tea all day long! The kettle is always in plain sight when she comes for a visit and gets lots of use. I can't wait for her to come over so I can show her my new kettle which is a big upgrade from the one I used to use! 
I'm now the owner of a T-fal Thermovision Electronic Kettle (1.5L) which is the most advanced kettle I've ever owned. For starters, it has 5 programmable temperatures (160⁰F, 175⁰F, 185⁰F, 195⁰F, 212⁰C) you can choose from. I never have given the temperature much thought before, but I've learned that there are some teas (like white & green) that require specific temperatures to retain their vitamins and nutrients. I prefer my hot beverages very hot so it's nice to have that option on there.  There's an LCD display of the current temperature so you always know how hot it is. 
There's a light inside the kettle that changes colour according to the temperature of the water. It's neat to have a visual aid to see how hot it is. 
When the water is at the selected temperature, it will beep and the kettle will switch off automatically. I love this feature! I don't know how many times I've started the kettle then got busy doing something else and forgot about it! 
It's stainless steel, but the handle doesn't heat up so you won't burn yourself. Still I would be careful since the water is very  hot!
I also like the fact that it has an automatic keep warm function for 30 minutes. If I get busy on the phone or doing laundry, I still have time to make my tea (or oatmeal) without having to start up the kettle again.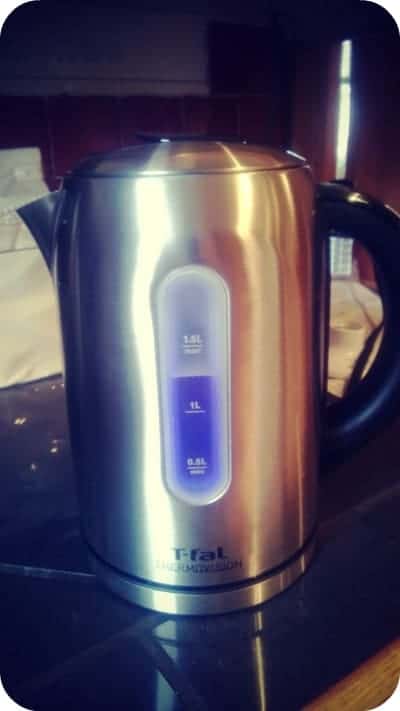 To clean, just wipe out with a damp sponge. It's not to be submerged in water though and make sure its unplugged!! I'm sure you knew that anyways but I'll mention it just in case. There's also a removable filter you can clean with water.
The T-fal Thermovision Electronic Kettle is definitely the nicest kettle I've ever owned. Visit T-fal for more information about the kettle and where you can buy one as a gift for a friend (or for yourself!).
Connect with T-fal Canada on Facebook and Twitter.
 Disclosure: I was not financially compensated for this post. I received a sample of the product for review purposes. The opinions are my own, based on my personal experience with the product.