Shaune Bazner Review
I love to pull my hair back but get tired of the same old hair ties. For a fashionable twist, Shaune Bazner has a fabulous collection of hair accessories including 10-in-1 Convertibles and Mei Fa Hairstyx Hair Sticks!
Designer Shaune Bazner began her career as a dancer and had difficulty finding hair accessories that kept her pulled back securely in place and wouldn't damage her hair or cause headaches. To solve this problem, she decided to create her own hair accessories and a successful business was born!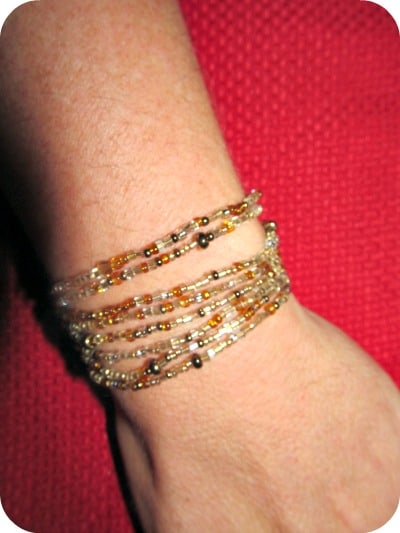 For the holidays, I selected the 10-in-1 Convertibles ($24) in a beautiful gold color and have found that this "hair jewelry" is wonderfully versatile. It can be worn as a hair tie, necklaces of various sizes, a bracelet, a low slung belt and even a headband. I love to use mine as a bracelet when I want to have my hair tie close by in case I need to pull my hair back. I find it to be very easy to use by just twisting and wrapping it around my hair and I love the way that the beautiful colors really shimmer. When I am wearing my 10-in-1 Convertibles, I feel stylish and pulled together as opposed to my normal hair accessories which leave me feeling frumpy. There are so many different colors and styles to choose from and these 10-in-1 Convertibles are a must have hair accessory in my opinion for the holidays and would make great gift ideas or stocking stuffers!
Don't forget to check out the Mei Fa Hairstyx too which are similar to chopsticks but has been perfected for use as a hair stick by the designer. There are lots of elegant and functional styles to choose from in the collection.
You are invited to visit Shaune Bazner to browse the entire selection of high quality jewelry and hair accessories. I am very impressed with the quality and style of my 10-in-1 Convertibles hair accessory and plan to purchase several more in different colors to match with my wardrobe.
Disclosure: I was not financially compensated for this post. I received a sample of the product for review purposes. The opinions are my own, based on my personal experience with the product.