The Secret Mountain Review
I love to expose my three children ages 5, 6 and 7 to different cultures from around the world and The Secret Mountain has an excellent book-cd series that makes it entertaining and educational.
Songs in the Shade of The Olive Tree: Lullabies and Nursery Rhymes from the Maghreb ($22.95 Canadian)took us around the globe to North Africa "visiting" Morocco, Tunisia and Algeria as we listened to 30 beautiful melodies in Arabic and Berber. The haunting melodies on this CD are so lovely and the 70 page hardcover book is beautifully illustrated by Nathalie Novi. My children enjoyed learning about the importance of rain, traditional communal meals and what happens when kids exhibit inappropriate behaviors. It even included a transcription section which explains the history and meaning of the songs, includes fun hand games the kids can play and more. My children love music and were very excited to learn about the local instruments played in the songs by the very talented men, women and children on this CD. We thoroughly enjoy reading and listening to Songs in the Shade of the Olive Tree, title compiled by Hafida Favret and Magdelaine Lerasle and arranged by Paul Mindy.
Songs in the Shade of The Flamboyant Tree: French Creole Lullabies and Nursery Rhymes ($22.95 Canadian) is another excellent book-cd in the series (the 3rd release) and features soothing songs to be enjoyed by both young and old(er) alike. My background is French Canadian so I appreciate listening to all of these lovely songs and celebrating a part of my heritage with my own children. The talented men, woman and children who sing the songs on the CD are from Haiti, Guadaloupe, Martinique and Reunion Island. My children and I find it very interesting to learn about the rich culture and heritage of the islands and I can listen to the soothing Caribbean rhythmic sounds all day.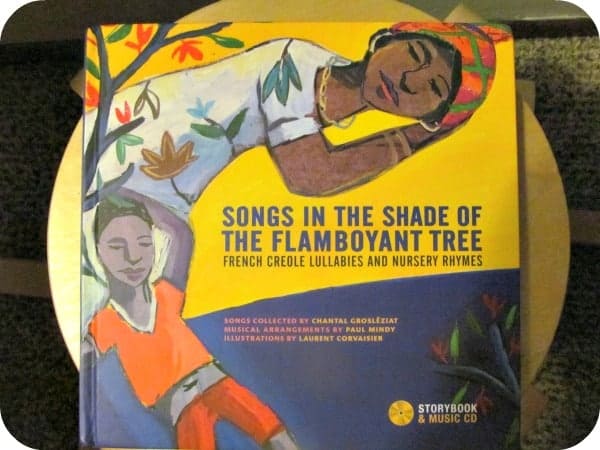 The Secret Mountain based out of Montreal, Quebec Canada is proud to offer a wide selection of unique children's books, apps, videos and music featuring the highest quality artists and authors. You are invited to visit their website to get purchasing information for these two titles, listen to a sampling of the music and browse all of the other amazing offerings. Any of these book-cd titles would make fantastic gift ideas for the holidays!
Disclosure: I was not financially compensated for this post. I received a sample of the product for review purposes. The opinions are my own, based on my personal experience with the product.