Peeka Pals Review
If you're looking for a cute personalized gift for a little one in your life, you need to check out Peeka Pals. Not only because they offer an adorable line of clothing and home accessories, but also because they have developed a program to help cloth children in need – something you can feel good to be a part of.
Peeka Pals was started by Kaming "Papa" Peeka, a father of four who takes inspiration for his designs from his four children. Having worked as a graphic and web designer, his real passion is drawing, and nothing pleases him more than being able to create cute products for his kids, and now he's sharing his talents with the rest of us! The Peeka Pals website offers an array of personalized children's t-shirts, sweatshirts, and baby bodysuits adorned with the adorable animal images illustrated by Kaming himself. In addition to the website, Kaming also runs a Peeka Pals Etsy shop that offers personalized clocks, wall prints, greeting cards, and more. If you don't see an illustration you like, just drop Kaming a note and he'll draw something custom for you. And bonus, free shipping for all orders over $45 in the US!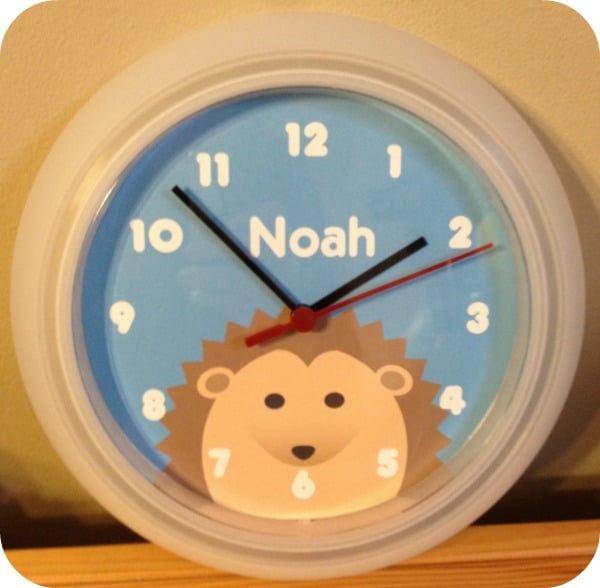 Aside from offering cute children's products, Peeka Pals is also a company you can feel good buying from. They have developed a philanthropic program called "Buy A Pal, Help A Kid!" to help clothe children in need. Working with Newborns in Need, Inc. (NIN), a charity organized to take care of needy babies, Peeka Pals takes the total number of shirts sold from their online store each month and delivers the same number to NIN to distribute to needy children.
I received a personalized wall clock from the Peeka Pals Etsy shop for review. I chose a cute little hedgehog illustration for my youngest son's room. When it arrived, it was even cuter in person! I love the subtle colors and the simple nature of the drawing and I think it goes great with the alphabet decals we currently have on the walls. I really think it's a piece that can fit into any child's room décor. At only $17.99, this would make a great gift for a new baby or a toddler who has a favorite animal. It would also make a great piece to hang in a playroom.
To see the full line of products Peeka Pals has to offer, visit the website and Etsy shop.
Disclosure: I was not financially compensated for this post. I received a sample of the product for review purposes. The opinions are my own, based on my personal experience with the product.