My Pretty Playhouse Review
It always amazes me how a simple cardboard box can inspire my children's imaginations to soar. Elevating the cardboard box to new levels of fun is My Pretty Playhouse from Boutique Cascades!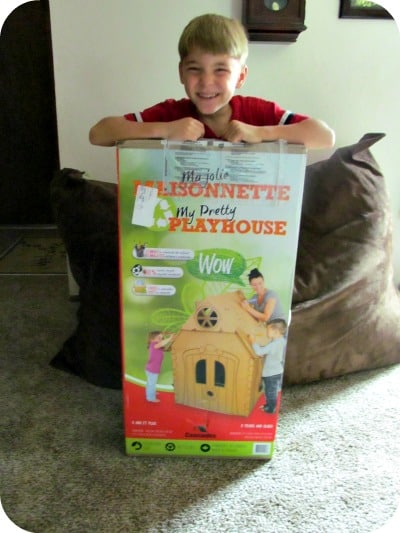 My Pretty Playhouse ($34.99) is a Canadian made product that is eco-friendly as it is made of 100% recycled cardboard. It has a fun customizable design on the cardboard that will keep the kids occupied for hours decorating their playhouse with markers, crayons, paint etc. giving it their own personal touch.
The playhouse was very easy for my husband to assemble in about 15 minutes while he surrounded by three very excited children who couldn't wait to start playing in their new "house". The sturdy cardboard construction was surprisingly durable as it has been able to withstand daily play with my three active children and their friends in their bedroom. While it is big enough for them to play in it is still a small enough size that it didn't take up too much space in their room so it would be a great idea for an apartment, condo, enclosed porch or smaller house.
My Pretty Playhouse is a great way for children to role play and it promotes their creative expression. My children are ages 5, 6 and 7 and they absolutely love having their own personal space to call their own. Using their imaginations, this playhouse has been "transformed" into a veterinary hospital, house, schoolroom and more as they played together and with their neighborhood friends. During quiet times, my eldest son will often be found lying in his playhouse reading a book.
You are invited to visit Boutique Cascades to purchase My Pretty Playhouse or to browse the entire line of available children's playhouses. There are lots of fun styles to choose from and a few of my favorites include the Cardboard Barbie™ Dream House ($39.99) and the adorable My Toopy & Binoo House. A cardboard playhouse is an excellent gift idea for the holidays and it is sure to be a hit with the lucky little recipient! I am very pleased with the quality, durability and attractive prices which fit our budget…..plus check out the free shipping!
Disclosure: I was not financially compensated for this post. I received a sample of the product for review purposes. The opinions are my own, based on my personal experience with the product.