Monsters, Inc. 3D Review #DisneyMoviesEvent
Monsters, Inc came out in 2001 and I remember buying the VHS for Olivia who at the time was three years old. We watched it back then and she really enjoyed it. Fast forward to 2012 where Monsters, Inc. is being re-released…this time in 3D!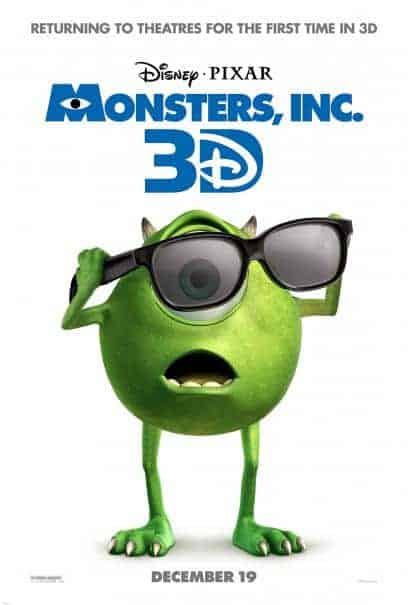 Monsters, Inc. is such a cute family movie with a great story. It's set in Monstroplis,a company town full of monsters of all shapes and sizes. Sulley (John Goodman) and Mike Wazowski (Billy Crystal) work at the local factory where the mission is who can scare the children of Earth the most. It's important that the monsters be good at their jobs since Monstropolis depends on the screams of the children for their power source. However, children are considered especially toxic and if one accidentally enters Monstropolis, then it's a real emergency. Think hazmat teams and the works!
One night a little girl named Boo follows Sully back to Monstropolis. When Sulley realizes this, he freaks out. His job would be in jeopardy if anyone found out so he has to hide Boo and figure out a way to get her back home. 
My favourite thing about the movie was watching the bond between Sulley and Boo grow stronger. At first, Boo terrified him, but he grew more attached and protective of her as the movie goes on. It was really cute seeing this big monster interacting with a tiny little girl who doesn't really talk yet. 
The movie is also really funny! I think both adults and children will enjoy the humour. I mean with Billy Crystal involved you know it has to have some good laughs right?
Watching it in 3D was something else! The animation is incredible and with the fact that it was in 3D made me feel like I was enveloped in the world of Monstropolis too.
Monsters, Inc. hits theatres for the very first time in 3D on December 19th. It's a movie worth bringing your whole family too even if you have already seen it. The experience in 3D just amplifies everything I loved the first time around.
Like MONSTERS, INC. 3D on Facebook
MONSTERS, INC. is returning to U.S. theatres for the first time in 3D on December 19th!
*I received an all expenses paid trip to Los Angeles where I screened Monsters, Inc. 3D. All thoughts and opinions expressed in this post are entirely my own.*