Mickey Mouse Clubhouse Review
Both of my boys are Mickey Mouse fans. We've been watching Mickey Mouse Clubhouse for years. My little guy is especially fond of the Clubhouse show because it has a lot of music and he LOVES to dance! With two Mickey maniacs in my house I'm glad to be able to add a new DVD to our collection – Mickey Mouse Clubhouse Mickey & Donald Have A Farm.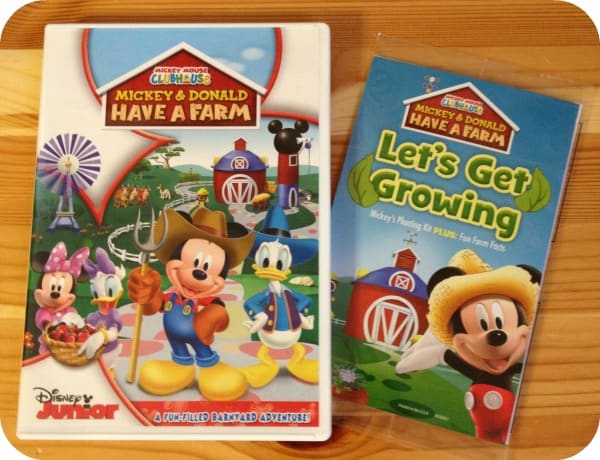 I received a copy of Mickey & Donald Have A Farm for review. Both of my boys were very excited to watch. I like the Mickey Mouse Clubhouse show because it's a show I know is not only appropriate for both of my boys, but it also includes a lot of learning activities such as counting, identifying letters, and number recognition. The premise of the Mickey & Donald Have A Farm feature revolves around the gang trying to round up all the animals on the farm that were blown away by Pete's big windmill. Using the right Mouseketools, Mickey and the crew set out to identify and bring back all the animals. My boys enjoyed identifying the animals by their sounds and had fun singing along with Mickey and crew. In addition to the feature show, the DVD also have four other Clubhouse episodes and runs approximately 126 minutes. Just released this month, you can pick up a copy of the Mickey & Donald Have A Farm DVD from online retailers like Amazon for $12.99.
Also included with the DVD is a Let's Get Growing kit that includes seeds for planting, plant markers, and an instructional booklet on how and when to plant. My oldest is intrigued to plant our lettuce seeds come spring.
To watch clips and learn more about the Mickey & Donald Have A Farm DVD, check out the official website. You can also visit the official Mickey Mouse Clubhouse website for episode clips, activities and coloring sheets.
Disclosure: I was not financially compensated for this post. I received a sample of the product for review purposes. The opinions are my own, based on my personal experience with the product.