Kirby Puckernut and the Christmas Surprise Book Review
Do you need a little Christmas Magic in your home this year? Our family can always use a bit of Christmas Magic and my children loved the Christmas book by Alicia Richardson, Kirby Puckernut and the Christmas Surprise.
This soon to be a classic story has real-life family dynamics that make it especially heart-warming. Kirby Puckernut is one of Santa's elves and he comes up with the clever idea of being a real elf in a home with a family. Santa approves his idea sending Kirby as a "test elf" for a first visit.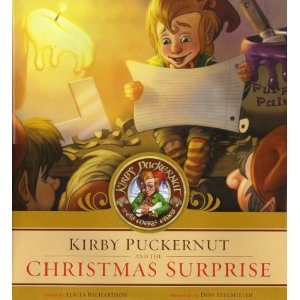 Traveling from Els Mere (home of the elves and their toy shop), Kirby is sent to a family with a loving mother and father and their three children. Thirteen year old Izzy no longer believes in Christmas Magic and through a series of adventures and tribulations is faced with a final question…..does Christmas Magic exist and what exactly is it?
I really enjoyed this story and so did my children. It is a longer picture book which I thought might not hold my younger children's attention all the way through in one sitting but I was very wrong. They were captivated with the story and warm characters and hung on every word…..asking to read it again when we were finished.
The illustrations by Don Seegmiller were beautiful and captured the characters and environment perfectly. This is a wonderful story for the holidays…..gather your little ones close, enjoy a cup of hot cocoa and read Kirby Puckernut and the Christmas Surprise!
You are invited to visit the author's website or Kirby Puckernut website to learn more about Kirby Puckernut and the Christmas Surprise. This hardcover book is available for purchase for the SRP of $17.95 and you can even request that the author sign it!
Disclosure: I was not financially compensated for this post. I received a sample of the product for review purposes. The opinions are my own, based on my personal experience with the product.