Kellogg's Rice Krispies Holiday Ornaments
Rice Krispies squares have always been a hit in our home. They are easy to whip up and require no baking. They are also pretty hard to mess them up! This past weekend, Bridget and I made holiday ornaments out of Kellogg's Rice Krispies! We aren't professionals by any means, but we had a blast making them and I think they turned out pretty darn good!
For a fun project for both adults and kids, try making  these Kellogg's Rice Krispies Holiday Ornaments. They make a wonderful edible gift!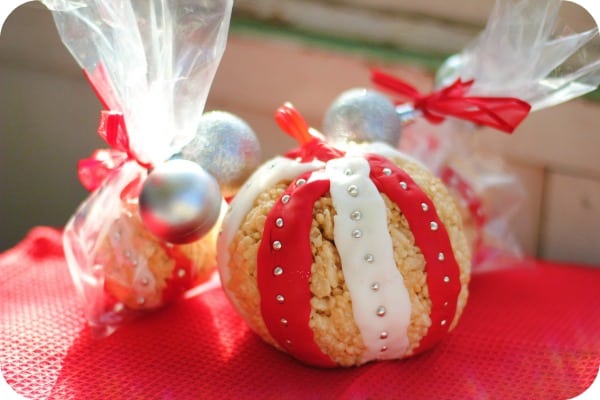 Kellogg's Rice Krispies Holiday Ornament
Recipe by Lisa Sanguedolce, Top Cake Decorator
6 cups Kellogg's Rice Krispies cereal
250g  package marshmallows
1/4 cup butter or margarine
1/2 tsp vanilla extract
Red licorice string
Red and white fondant and silver dragees (available at cake decorating supply shops, crafting or grocery stores)
Ruler, bamboo skewer, pizza cutter, rolling pin and paint brush
Cello bags, ribbon, mini decorative bulbs (available at local crafting stores)
1. In a large microwave safe bowl, heat butter and marshmallows on high for 3 minutes, stirring after 2 minutes. 
2. Stir in vanilla. Stir in Rice Krispies until well coated. Allow mixture to cool slightly; form into shape.
3. Form Rice Krispies mixture into half balls, leaving space in the centre.
4. Poke a small hole in a piece of fondant with a bamboo skewer and thread with your red licorice to make the loop for hanging. 
5. Place the loop inside the ball and add more Rice Krispies mixture to close the ball around the licorice so the loop sticks out; add more mixture as needed and mold with hands into ball shape.
6. Roll fondant into a sheet using a rolling pin.
7. With a ruler and pizza cutter, cut fondant into long strips; place onto ornament working your way around, cutting any excess.
8. Dip the paint brush in some water and brush onto the fondant; sprinkle on silver dragees.
5. Once complete, package the ornaments in a cello bag, add ribbon and the mini decorative bulbs.
Disclosure: I was not financially compensated for this post. I received a sample of the product for review purposes. The opinions are my own, based on my personal experience with the product.