Green & Black's Organic Chocolate Bars Review
Green & Black's makes delicious chocolate. I tried their chocolate bars about 2 years ago and fell in love with them back then. I don't eat chocolate that often anymore, but when I do I crave a Green & Black's chocolate bar. 
This is a company that focuses on quality taking every measure from "bean to bar" to ensure that the customers receives a top notch taste experience.  They use organically grown Trinitario cocoa beans and spend more time conching (stirring constantly) to bring out the flavour they are known for.
All Green & Black's products are Fair Trade certified. This means that the company pays local farmers a fair wage and invests in their community to improve infrastructure, etc. 
You can check out the Green & Black's website to learn more about the origins of their chocolate, Fair Trade and more.
I was sent a tasty little package of delectable Green & Black's chocolate bars to try out! They did not last long especially with John and his chocolate obssession. The man eats chocolate every day!
In this bundle was six different flavours of Green & Black's chocolate bars: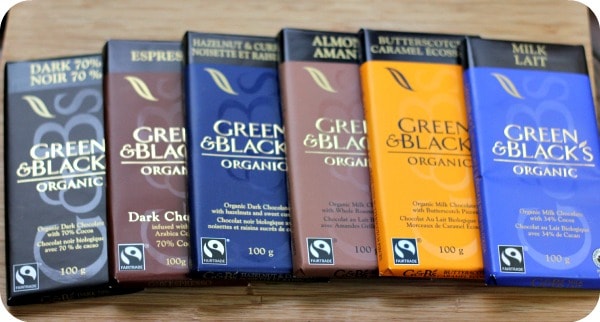 My personal favourite is Butterscotch! It's AMAZING!!!! It's all gone now and I've been craving it since. Need to buy more asap…. John says the Milk Chocolate is #1. It's good too, but I think the Butterscotch wins in my books! 
Find Green & Black's chocolate at most grocery stores across Canada like  Loblaw's & Sobey's, drug stores & health food stores across Canada. I'm going to pick up more to try a few recipes I found on Green & Black's website. These Chocolate & Cherry Brownies are calling my name.
Pick up some bars and wrap them in a festive bow to make a nice stocking stuffer for a chocolate lover on your list!
Connect with Green & Black's Canada on Facebook.
Disclosure: I was not financially compensated for this post. I received a sample of the product for review purposes. The opinions are my own, based on my personal experience with the product.