Cool Cuts 4 Kids Holiday Review
My children love getting their hair cut and styled at Cool Cuts 4 Kids…….no worries about tears or fits because Cool Cuts 4 Kids makes the experience fun! In fact all three of my children ages 5, 6 and 7 get really excited when we visit Cool Cuts 4 Kids instead of their dad's barber shop.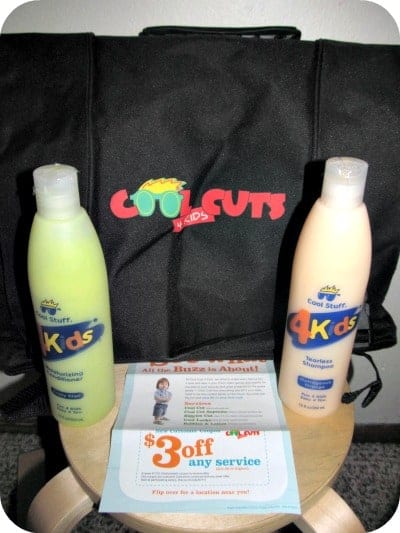 Cool Cuts 4 Kids is the largest salon chain specifically created for children and your child can look their best this season with a variety of salon quality services. The professional stylists are always very friendly in my experience and they know how to work with children to make it stress-free for both the child and the parents. They are also trained in the latest fashions and trends for children so you can feel confident that your child's hair is going to look great!
I recently had the opportunity to try out two top salon products from Cool Cuts 4 Kids 4Kids Line to use at home and keep their hair looking great. I really liked the Tearless Shampoo and Moisturizing Conditioner which had a wonderful fresh fruit scent and I appreciate that the shampoo is sulfate-free and there were absolutely no tears!
Are you ready to learn more about the fabulous holiday promotion at Cool Cuts 4 Kids? If you are a new customer you can save $5 off any service of $11.95 and up and it is valid on Monday-Thursday. This includes haircuts, updos for special occasions etc.
Be sure to head over to Cool Cuts 4 Kids and check out the wide range of services and hair care products available for your special little ones.
Disclosure: I was not financially compensated for this post. I received a sample of the product for review purposes. The opinions are my own, based on my personal experience with the product.