I've written before about the sensitive nature of my children's skin. Both of my boys unfortunately suffer from eczema and require constant care. We make sure to make sure to use the best soaps and lotions for sensitive skin in order to avoid flare-ups. Besides soaps and lotions at bath, I'm also very careful about the laundry detergent I use for their clothes. I only use detergents that are free of dyes and perfumes, and I've found the best brand that's gentle enough for their skin, yet tough on their stains, is All Free Clear.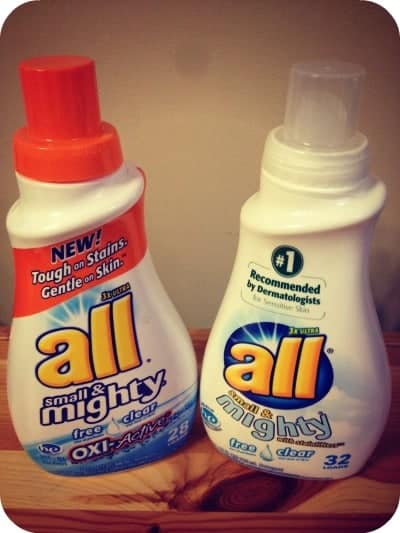 I have used All detergent for years. I've always found them to be a reliable brand that delivers on stain-fighting and keeping clothes looking nice. Before I had children I never worried about free and clear detergents because my skin has never been bothered by standard detergents. Once my boys were born and we discovered the sensitive nature of their skin, I turned to All Free Clear for all their clothes. Not only did I like the way the free and clear detergent handles the stains on their clothes (especially those pesky formula stains!) but I also like how clean and fresh they smelled after the wash. I converted to a free and clear user for all of our clothes years ago and have never looked back! All Free & Clear is specially formulated for people with sensitive skin and is the #1 "free" detergent recommend by pediatricians, allergists and dermatologists. All Free Clear was also awarded the Seal of Acceptance by the National Eczema Association, which means a lot to me.
I received two coupons for free All Free Clear products and immediately knew what I was going to pick up at the store. I picked up a Small & Mighty Free Clear and a Small & Mighty Free Clear Oxi-Active. Both bottles are specially formulated to do more with less – the Free & Clear handles 32 loads, the Free & Clear Oxi-Active 28 loads. Just a tiny capful takes care of a full load of my family's clothes. I like the Oxi-Active for the extra stain fighting power for the boys' clothes (especially when we've been outside in the dirt!). Both detergents rinse clean – so there's no residue left behind in the washer or on our clothes.
Check out the All website for a full listing of all their products, as well as special offers.
Disclosure: I was not financially compensated for this post. I received a sample of the product for review purposes. The opinions are my own, based on my personal experience with the product.