A Few of My Favourite P&G Products #PGMom
Earlier this fall, I was invited to Toronto to attend a P&G Mom event. I wasn't able to attend the event, but the folks at P&G sent me an enormous tote of P&G products to try out! My friends on Facebook & Instagram would have seen just how big this box was. Let's just say I was able to get inside and close it up!
Here's a peek at all the goodies that were inside:
There was a few products in there that I can't use like the Pampers Cruisers. We have a friend who is looking after his granddaughter and he gladly accepted them. In fact, they were the exact size that the baby wears.
Here's a few of my favourite products so far…
Cascade All in 1 Dishwasher Detergent
John and I got our first dishwasher a few months ago and have tried out a few different detergents. The one that works the best in my opinion is Cascade All in One Pacs.  They are compact little packages that contain both powder and gel that pre-treat, fight stains, and rinse away all the food and grease. I don't even have to rinse my dishes first like I have to with some detergents. The dishes come out clean and shiny and the glasses are clear. I hate murky drinking glasses! 
Side note: When I open up the package to take out a pac to run a load in the dishwasher, my cats always come running to me. The bag makes the same sound as their cat treats. 
Wella Professionals Brilliance Shampoo & Conditioner
These were sample size bottles and I wish I had more. They are for fine to normal coloured hair which is exactly what I have. I love the smell and how it makes my hair look and feel.
I sweat more than the average person and hyperhydrosis (excessive sweating) does run in my family. Aren't I lucky? I need a good antiperspirant to keep everything under control. I've used Secret since I was a teenager and started wearing antiperspirant.  I like that Secret Outlast Antiperspirant keeps the BO at bay for the entire day. It says 48 hours protection, but I would never go that long without applying an antiperspirant. It could be ok for the average person though without an excessive sweating problem. I'm just always self-conscious about it so I apply it daily (sometimes twice a day if I'm going out anywhere).
Mr. Clean Magic Eraser
You can clean pretty much anything with Mr. Clean Magic Erasers. They work on tough stains especially scuff marks on the walls and baseboards. This particular box lets you select a size depending on the top of job you need to undertake. Just wet it, squeeze out the excess and rub it on the stain. It's like magic!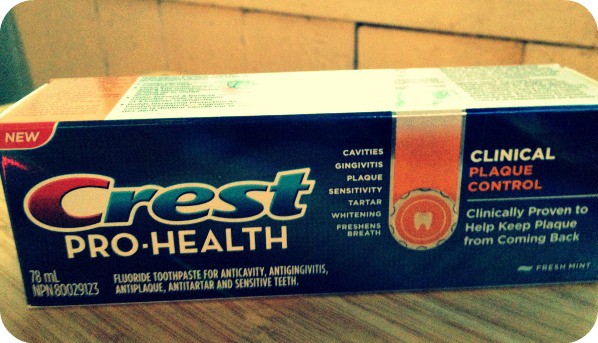 Crest Pro-Health Clinical Plaque Control Toothpaste
I don't have a dental plan anymore so my visits will now be out of pocket. Thankfully, I've never had too many issues with my teeth (knock on wood). I want a good toothpaste that is going to prevent cavities and keep my teeth and gums healthy. I like that Crest Pro-Health Clinical Plaque Control Toothpaste does more than just prevent cavities. It also helps reverse gingivitis, fights tartar, bad breath, plaque, and even whitens! 
I'll share more about the P&G products I received as I have a chance to use them all in the coming weeks.
Disclosure: I was not financially compensated for this post. I received a sample of the product for review purposes. The opinions are my own, based on my personal experience with the product.