Schick Hydro Silk Holiday Pack Review
How about this for a practical gift idea for her: Schick® Hydro Silk™ Holiday Pack. I say practical because it's something that can actually be used and it's an excellent quality and value.
This is the type of gift that my mom would buy for my sisters and I. She's always trying to think of things we need and she loves a good deal. This particular set is only $13.99 so it's very affordable. If you are buying for a Secret Santa Gift Exchange, the Schick® Hydro Silk™ Holiday Pack is a wonderful gift.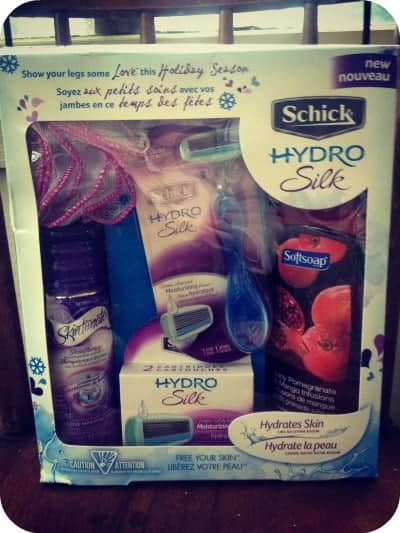 Inside you will find:
Schick Hydro Silk Razor with one cartridge
Softsoap Pomegranate and Mango Moisturizing Body Wash (532 mL)
Limited Edition Skintimate Skin Therapy for Sensitive Skin (198 g)
Schick Hydro Silk pack of two refill cartridges
Bath Pouf
It's got everything you need to pamper yourself. Bath time is "me" time and it's one thing I really look forward to. The Schick Hydro Silk Razor gets the job done without nicks! Besides getting a close shave, it also replenishes your skin's natural moisture with its Water-Activated Moisturizing Serum for up to 2 hours after you shave. I usually cut myself with the cheap razors and end up with razor burn. I love how the Skintimate protects my sensitive skin and my legs come out of the bath soft and smooth. 
Keep Schick® Hydro Silk™ Holiday Pack in mind when you are out doing your holiday shopping for a special female on your list.
Disclosure: I was not financially compensated for this post. I received a sample of the product for review purposes. The opinions are my own, based on my personal experience with the product.