Nestle TURTLES Canada Post Mailers Review
My daily trek to the local Post Office always gets a little more exciting around the holidays. I open my PO Box with anticipation of receiving greeting cards from my family & friends. I've always felt a spark of delight when there's something personal  in there especially in this age of technology where it's all emails & IMs. This year, Canadians can take sending out greeting cards to completely new level with Nestlé TURTLES Canada Post Mailers!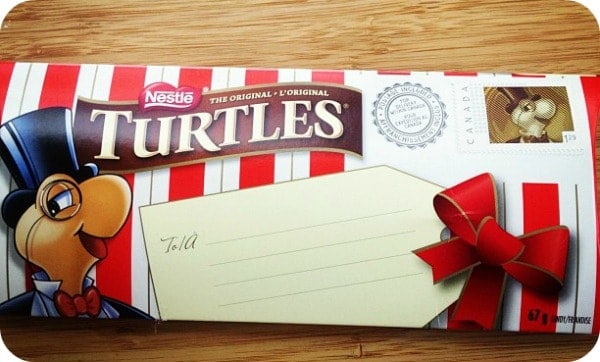 TURTLES have been a holiday tradition since as long as I can remember. In fact, they've been a Canadian favourite for 63 years…longer than both my parents have been alive! With their sweet caramel, chocolate and pecans in each perfect bite, TURTLES do not last long in our house! John already ate the ones I received for review so I can't even mail them out.
It's fine though because I saw them on sale for $4.99 at the Post Office. Each mailer includes four TURTLES and postage so all you need to do is include a personalized note to your recipient and their address and pop it in the mail. I'll be buying a few of them to send to my family in Ontario.
The Nestlé TURTLES Mailers are available now until Christmas at Canada Post locations across Canada.
Disclosure: I was not financially compensated for this post. I received a sample of the product for review purposes. The opinions are my own, based on my personal experience with the product.