Morphology Junior Board Game Review
My children and I look forward to our weekly Family Game Night and board games are our favorite. We recently played Morphology Junior™ and this award winning, creative, fun game is a huge hit with my children. Morphology Junior™ is a fun guessing game designed for children ages 8 and up however my children are ages 5, 6 and 7 and were able to play with a bit of help from mom and dad.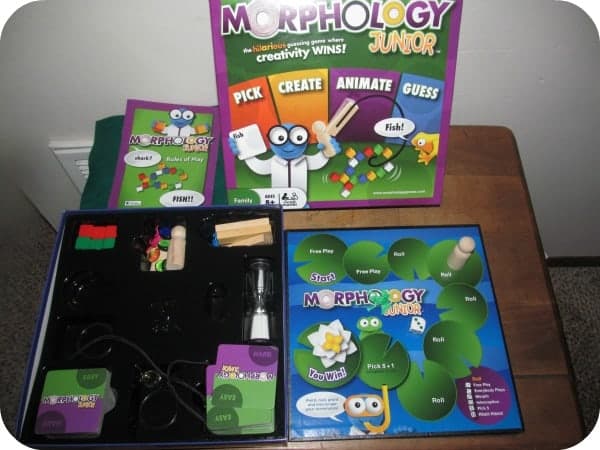 How do you play? Players race against each other to guess the mystery word by making sounds and acting out clues. It is absolutely hilarious to watch my children try to act out the word(s) and I love how it is inspiring their creativity while being tons of fun. Players pick a card (there are 480 words in the game) and can even create a word using the 30 pieces available for word building. By using the pieces the players try to bring the word to "life". For example, crawl like a baby, wiggle the fish etc. The goal is for your teammate to be able to guess the word in one minute or less. The first team to reach the last lily pad on the board is the winner!
My children absolutely love this game and want to play it over and over again. It is an excellent game to teach cooperative play, teamwork and I find it a fun resource for reinforcing early vocabulary and language skills too. As a mom, I appreciate that this game helps their confidence soar too with each word that is guessed correctly and that they work really hard to come up with creative ways for their team to figure out the word.
Morphology Junior™ (SRP $29.99) is an excellent holiday gift idea for children and adults who love guessing games. There is even a Morphology game for older kids and adults too. It is also sure to be a hit as a party game for the holidays too!
You are invited to visit the Morphology Games to learn more about this award-winning game and purchase one for your family.
Disclosure: I was not financially compensated for this post. I received a sample of the product for review purposes. The opinions are my own, based on my personal experience with the product.