Mini Lalaloopsy Silly Fun House Playset Review
Bridget's eyes lit up as soon as she saw her new Mini Lalaloopsy™ Silly Fun House Playset! She has a Lalaloopsy doll and actually has the Mini Lalaloopsy toys on her Christmas wish list.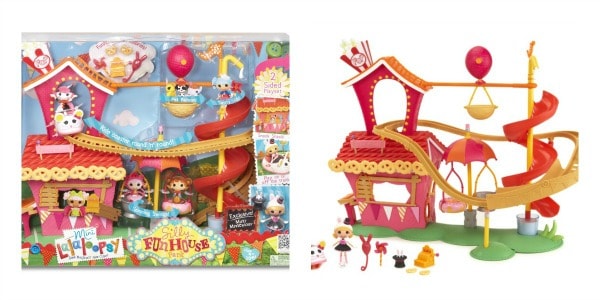 Bridget had hours of fun playing with her Mini Lalaloopsy™ Silly Fun House Playset. It's like an amusement park for toys! It has five different rides including a rollercoaster, zipline, teacup swing, twisty slide and a snack shack. It also comes with an exclusive Misty Mysterious doll and her pet bunny. Plus there's extra accessories included like pretzels, balloon, and even a cash register for the snack shack.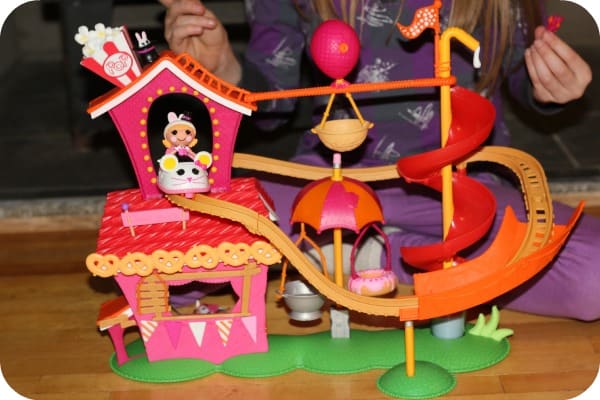 Bridget's said her favourite part of the set was the rollercoaster. She straps Misty in (yes, there's even a little elastic seatbelt to hold her in) and away she goes in the little car. Misty has moveable limbs so its easy to put her into the various contraptions in the set.
As for setting it up, it was fairly straightforward. There's instructions and a diagram and it took me about 10 minutes to do. The longest part was removing all the packaging. I was worried the track would be too wobbly but it seemed secure once every part was in its proper place.
The Mini Lalaloopsy™ Silly Fun House Playset is recommended for children ages 4 and up and retails for $44.99. I checked online and saw that it was available at many popular retailers like Walmart, Toys R Us and Amazon.com.
Disclosure: I was not financially compensated for this post. I received a sample of the product for review purposes. The opinions are my own, based on my personal experience with the product.