Magna Color 3D Magnetic Drawing Studio Review
Wow….Tech 4 Kids has outdone themselves with this creative toy for kids ages 4 and up! The Magna Color 3D gives children the ability to design works of art using a magnetic board and metal dots and brings it to "life" in 3D.
How does it work? Magna Color comes with a design board, 4 stencils (or use the board to create your own designs), a Screen Swiper, 4 Magic Dot Pens, 3D UltraVision Glasses and 160 Magic Dots in different colors. The instructions for setting up the toy were very easy to follow and in just a few minutes, the kids and I were ready to start creating. Using the Magic Dot Pens to expertly place the colored Magic Dots on the stencil or directly on the design board kids can then put on their 3D UltraVision Glasses and see their creation magically transform into 3D!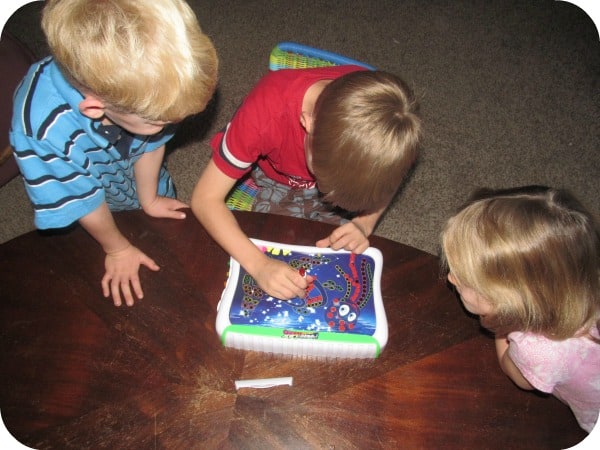 My children are ages 7, 6 and 5 and they absolutely love playing with the Magna Color. My oldest son is the artist in the family and he played with this for over 2 hours. He gets so excited when his latest design is finished and proudly shows it off to the family. After one design was completed and he was ready to make something new he simply used the Screen Sweeper to push the Magic Dots back into the slot at the top of the design board. With a few gentle shakes to the design board, the metal Magic Dots "magically" go back to the correct Magic Dot Pens and the fun can start all over again!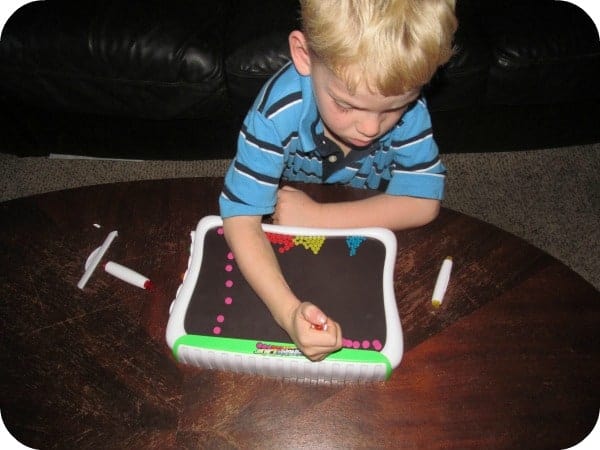 I love that this art toy promotes my children's creativity and it doesn't require batteries! It is a lot of fun and I even had fun trying it out.
Are you ready to see this toy in action? Check out this fun 90 second instructional video.
You are invited to visit the Magna Color website to purchase your own Magnetic Drawing Studio set now! Magna Color Magnetic Drawing Studio is a wonderful gift idea for the holidays and is also available for purchase at major retailers such as Toys "R" Us, Walmart, Kohl's BJ's Wholesale Club, Walgreens and more for the SRP of only $24.99!
Disclosure: I was not financially compensated for this post. I received a sample of the product for review purposes. The opinions are my own, based on my personal experience with the product.