Love's Christmas Journey DVD Review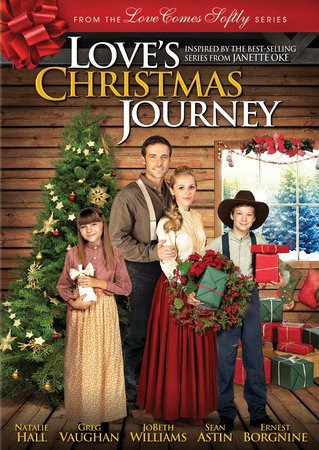 Title: Love's Christmas Journey
About the Movie:
Natalie Hall (TV's Pretty Little Liars) and Greg Vaughan (TV's General Hospital) lead an acclaimed cast that includees Sean Astin, JoBeth Williams (TV's Private Practice), Charles Shaughnessy and Oscar Winner Ernest Borgnine in this uplifting Christmas film. Still mourning the loss of her husband and daughter, Ellie Davis (Hall) agrees to watch her brother Aaron's (Vaughan) children while he heads off to purchase farmland. But after a suspicious fire, Ellie finds herself playing detective- with the help of a handsome deputy- to clear the name of a family friend. Despite her worries when Aaron doesn't return, if Ellie can trust her faith, this Christmas just might bring more miracle than she could have hoped for in an exhilarating story inspired by Janette Oke's cherished Love Comes Softly novel series.
My Review:
Love's Christmas Journey is a Hallmark Channel Original Movie made in 2011. This was my first time seeing or hearing about it though (we don't have cable) and I'm glad I had a chance to watch it. Bridget and I both loved it!
It's a 2 part movie that runs 171 minutes long. We sat down and watched both parts back to back because Part 1 ended on a cliffhanger and we had to find out what was going to happen!
The movie begins by introducing us to Ellie, a pretty blonde widow who recently lost her daughter and husband quite tragically. My heart went out to her immediately and I couldn't imagine the loss she had experienced. Natalie Hall did an amazing job conveying Ellie's underlying sadness. She smiles but you can tell its a front to hide her feelings because her eyes show just how devastated she is.  
I was trying to figure out the location of the movie and maybe I missed them saying where it was. It looked like the old west and I know they referenced both Kansas and Texas. It was during the time when the railroad was being built because the town was on edge to find out if the railroad would come through and make their little town a boomtown.
I loved seeing the old way that they did things from the clothing to the stores and houses with no electricity. There were no cars back then and everyone used horses and buggies. It seemed like all the men carried pistols too. When there was a fire, they had to put it out themselves with some buckets and water from the pump.
There were some intense scenes that left me on edge. There was a robber roaming around taking people's money and belongs and he was not afraid to use violence.  
My favourite scenes were the townspeople bustling in preparation for Christmas. They got the children involved in a pageant and making decorations. Bridget asked me during the movie why there was snow there and I had to explain to her that it was too hot there and they didn't get snow. It was foreign to her to see a Christmas with no snow.
Bridget also really enjoyed the costumes. She had her doll with her and put an outfit on her and asked if she looked like she was from the Old West. Her favourite part in the movie was when the twister came. That scene was another very intense one and hard to watch as a mother.
This film will surely be one that we sit down and watch each holiday season as it reminds us of the importance of family and community.
Disclosure: I was not financially compensated for this post. I received a sample of the product for review purposes. The opinions are my own, based on my personal experience with the product.