Lincoln Review #DisneyMoviesEvent
I had the opportunity to see Lincoln starring Daniel Day Lewis and Sally Field in September when I was on the #DisneyMoviesEvent trip to Los Angeles. Let me start out by saying that my knowledge of American History is very limited. I knew that Abraham Lincoln was an American president and that he was assassinated in a movie theatre. I also knew that he had a genetic disorder called Klinefelter Syndrome. I remember learning that in biology class in high school when we were studying genetics. Other than that I knew nothing else. I'm Canadian so I didn't take American History in high school.
Lincoln starts out in the midst of a Civil War with the country divided. One side approves of slavery while the other wants to abolish it. President Lincoln is on the side of abolishing slavery and the movie is about him fighting with his government to emancipate the slaves.
There are a lot of characters in the movie and because my knowledge of the history was so poor, I had a hard time keeping up with who was who. I think it would be easier for someone who already knew the background and the history to follow along. 
Daniel Day Lewis played an Oscar worthy performance as President Lincoln. I noticed all his mannerisms and even physical traits reflected that he had Klinefelter Syndrome. He walked with a shuffle and was extremely tall with long fingers. Sally Field also did an amazing job playing President Lincoln's wife, Mary Todd Lincoln. She had a lost a son and she was fearful of her oldest son going off to fight in the war. It was very emotional to watch and she made me as a viewer feel how worried she was.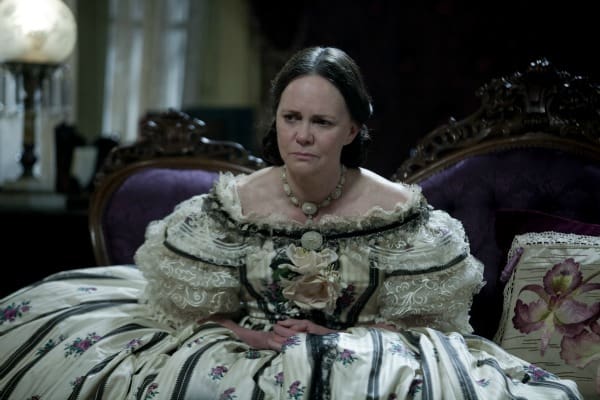 I know that President Lincoln is an enigma to Americans and I can draw a comparison to Pierre Elliott Trudeau for Canadians. He was an charismatic Canadian Prime Minister that many Canadians feel a romantic association with when they think back to our history and the Trudeaumania days.
After watching Lincoln, I talked to some of my blogger friends that were on the press trip with me and they were moved to tears by the movie. One of my friends said it made her feel pride for her country. For me as a Canadian with a limited history background, I learned an enormous amount about the Thirteenth Amendment and President Lincoln's fight to end slavery in America once and for all. I think Lincoln is the type of film that high school history classes in the USA should watch to help them gain a better understanding of their background. Lincoln is also a film that history buffs will really enjoy.
I won't be surprised if I see Lincoln on the ballot for Best Picture at the Oscars. Steven Spielberg did an amazing job directing and producing Lincoln and I think Americans and history buffs will really enjoy this film.
"Like" LINCOLN on Facebook
Follow LINCOLN on Twitter @LincolnMovie
LINCOLN opens in theatres everywhere on November 16th! 
*I received an all expenses paid trip to Los Angeles in order to participate in this event. All thoughts and opinions expressed in this post are entirely my own.*